World-class music, world-class electrical
Prime Electrical has had a major role in one of Australia's most technically advanced buildings. Sean Carroll delves into the scope of the award-winning project.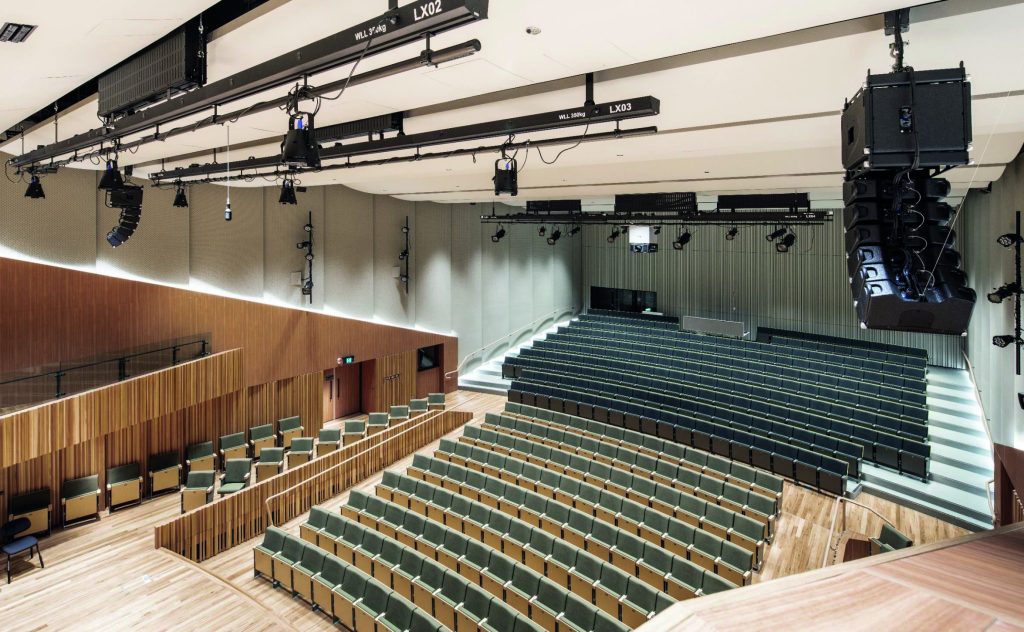 The Melbourne Conservatorium of Music is an advanced facility housing Australia's oldest and most prestigious music institution.
It sits in The Ian Potter Southbank Centre at the heart of Melbourne's arts precinct.
The Con offers University of Melbourne students a range of disciplines at undergraduate and graduate level as well as being a performance space for the university's Symphony Orchestra.
The entire development is a $105 million project across nine floors, and it includes a 443-seat cantilevering auditorium, a 200-seat ground-floor studio, and various rehearsal spaces and studios.
It can also claim to have the world's largest oculus windows, which are 6m in diameter.
With the music cohort increasing by more than two-thirds since 2010, the Con has evolved to cater for student numbers while expanding its availability to the public.
Prime Electrical & Data Services was responsible for the electrical side of the new building, work that won the medium commercial project category at the 2019 NECA Awards.
After winning a competitive tender from Lendlease, Prime completed the supply, installation, testing and commission of the project.
Project manager David Edgecumbe says Prime has exceptional long-standing partnerships with suppliers, allowing project pricing to be packaged and margins to be enhanced.
"We openly communicated the project expectations, and our suppliers understood our requirements. This resulted in fast delivery of products and helped us to meet the tight deadlines."
Prime kitted out the light and power services, clean earthing power for studio spaces, communications, security systems, AV theatre, automated lighting control system, solar power, lightning protection, electro-magnetic field shielding and substation fit-out.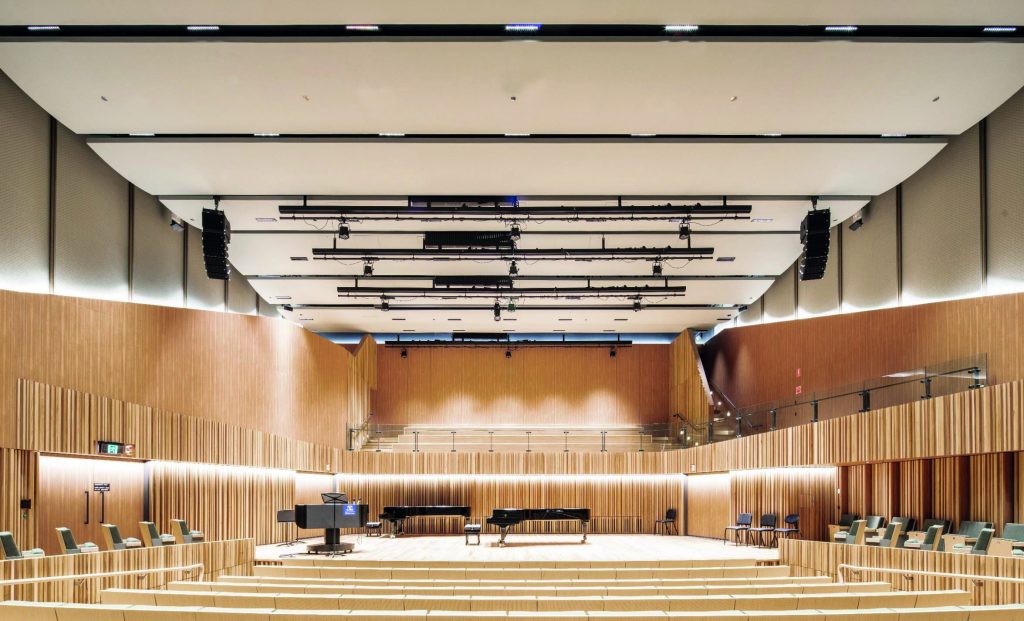 This project needed delicacy when it came to acoustic treatments and electrical systems. There can be no extraneous sounds when music is played in the auditoriums.
"We had to strictly adhere to specifications stipulated by the specialist consultants Marshall Day Acoustics," site foreman Craig Stephenson says.
"This included minimising noise transfer by stopping/starting reticulation pathways including tray work either side of the acoustic walls, ensuring that wall outlets were not back-to-back with outlets in adjoining rooms and using acoustic-rated enclosures on everything that penetrated acoustic walls.
"We also had to put equipment on acoustic mounts in studio spaces to eliminate vibration and ensure that all cabling in wall cavities had separation slack to prevent vibration transfer between building structures."
All studio spaces featured clean earthing power to provide dedicated reticulation systems for audio equipment and prevent unwanted noise in the audio system.
In collaboration with Fredon AV, Prime completed all the AV cabling requirements for the stage audio and lighting package.
"This included dimming racks, AV racks, floor boxes, flown and fixed lighting bars, motors, acoustic banners, projectors and screens," Craig says.
One of the more difficult aspects for Prime was to co-ordinate with all stakeholders, actualising each company's vision and filling in scope gaps.
The final product represents a collaboration of custom-made products integrating with each other to create a seamless final offering.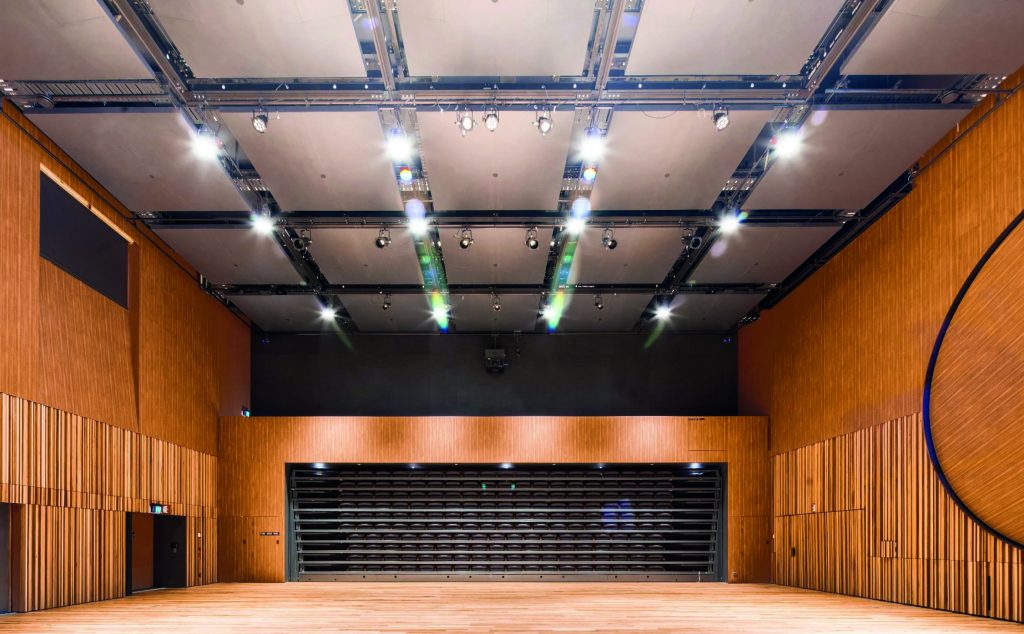 "A number of custom light fittings were designed for the building," Craig says.
"In particular, for the feature perimeter extrusion by Coolon LED on all the teaching floors, each piece was custom ordered to form one continuous piece around the corridor details.
"Custom high-output cove lighting by Light Projects creates an impressive entrance to the building.
"ECD, working with Prime, designed and built external stage boxes that provided an array of connections also found in the studios, outside under the counter lever stage, allowing it to be transformed into a technical space by simply lifting the hydraulic lids."
To highlight the customisability of the project, 66,000 Japanese tiles were hand laid into 150,000 depressions alongside the outside concrete wall.
"Custom equipment is always a difficult product to work with, as the lead times are usually substantial," Craig says.
"The key to success is to have all details co-ordinated early to ensure that all products can be delivered on time for site requirements, and without any last-minute installation problems."
Acoustics were based on a box-in-box construction, designed to heavily insulate the building from external noise. Craig says careful planning was needed for the unique design.
"Early co-ordinated reticulation pathway design was critical for achieving the box-in-box design of the studios.
"All cabling was installed using pre-approved methods to prevent transfer of noise from the outer to the inner shell of the spaces. This was mainly achieved through on-site workshops with the acoustic consultant and the use of mock-up or sample set-ups."
The Con was designed to meet a five-star Green Star sustainability rating, and Prime ensured that its project was as energy efficient as possible.
Project manager David says high-efficiency solar panels were installed plus LED lighting systems to reduce greenhouse gas emissions and limit the amount of toxic elements present. Fewer LEDs were needed due to their strength.
The team tackled on-site environmental waste by using recycled cables and copper throughout and adhering to all appropriate waste disposal processes.
"On-time project delivery resulted in reduced traffic disturbance, and limited operating hours reduced the amount of noise pollution from the project."
Craig says that working on the Con alongside numerous stakeholders has given him and his team valuable experience they can take to other projects.
The Con can now teach more than 7,000 students and, being based right near the cultural hub of Melbourne, can create stronger bonds between the arts.
"Being located in the Southbank Arts Centre brings us shoulder-to-shoulder with our most important partners, including the Melbourne Recital Centre and the Melbourne Symphony Orchestra," director Richard Kurth says.
David enjoys visiting the building and experiencing the finished project.
"Also, seeing it in use by students or visiting musicians gives everyone at Prime great satisfaction, given the amount of work and time they put in."