Behind bars: the technology of a jail cell
They are places that, for the most part, none of us will ever experience an extended stay in. But for some, prisons have proved to be an interesting challenge for integrators and installers. Anna Hayes found out more.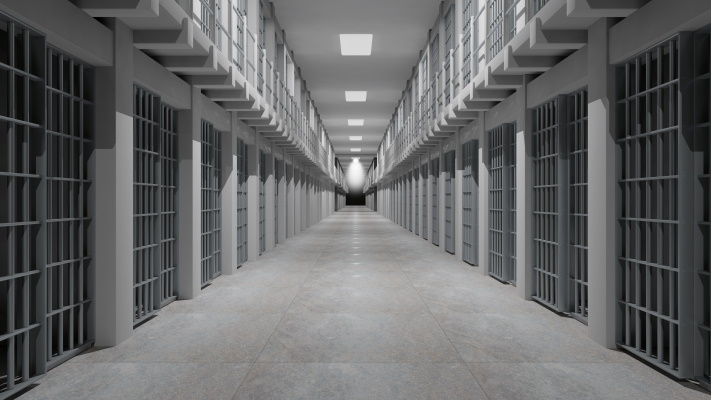 As working environments go, they don't get any more unique than the inside of a correctional facility or prison where technology providers are tasked with creating systems that don't just provide a service but are impenetrable from external, and internal, attacks.
It's not exactly a secret that prisons are a different beast to most public institutions and, even though some of the technology structures are simple, there is an onus on integrators and manufacturers to understand the space from a security perspective.
There have been instances where technology installed in correctional facilities has been compromised within strikingly short periods of time – these were largely due to the use of insecure technology.
Most new prisons are now being built through public-private partnerships (PPPs), a structure which is attractive to governments, but one that brings its own challenges from the point of view of installing the best and most effective systems.
Ron Fabre is the lead architect and security consultant for PrisonPC, an end-to-end solutions provider for prisons and correctional facilities, designing a platform for the delivery of all manner of services – educational, rehabilitative, entertainment and anything the respective facility deems necessary for delivery of their detainee-facing programs.
At the moment, PrisonPC is tendering for two projects – a new youth justice centre, and a new prison on Chisholm Road near Werribee that is being built through a PPP.
Ron explains: "What that means is that you've got a whole bunch of people with their finger in the pie and they're stuck in their own paradigms. For example, they'll deploy TVs without realising that there's a consolidated approach that can be taken that's far more secure."
He points out that simple TVs can be quite easily used to smuggle contraband into the prison via set-top boxes with USB ports.
"That's where PrisonPC comes into its own because we do things like blocking USB devices; we encourage our partners and manufacturers to reduce the amount of power output on the USB sockets so they can't easily charge cellular phones and so on."
Approximately 10 years ago, a prison in the Northern Territory installed desktops that were not suitable for the environment.
"They would have been perfectly fine in a corporate environment. The integrator had all this corporate experience but zero prison experience.
They rolled out what they considered to be a secure solution but their idea of security was what we call 'chocolate éclair security' – hard on the outside but soft on the inside."
This is one of the key challenges for integrators – re-conceptualising a solution delivery so it can be made through a Prisoner Interactive Learning System (PILS), often right to the detainee's cell. But it is only in recent times that systems have become secure enough to do this.
Ron points out: "In a prison, every individual, whether inside or outside has got to be considered hostile so you have to secure against all eventualities as a book-ended solution."
In the case of the NT prison, once authorities discovered that porn and contraband had got into the network, they replaced the users' keyboards with numeric keypads that could only be used to change TV stations. But this meant that expensive TVs could no longer be used for education and rehabilitation programs.
As a solution, this isn't ideal either – Ron believes that while security has to be to the forefront of everything installed in a prison, the services afforded to prisoners should ideally not be sacrificed.
"There's a desperate need for education and rehabilitation right through to the cell because if they're locked away for 16-18 hours a day due to lack of staff, they'd better use that time productively, say, doing homework."
He adds: "Prison is a university regardless. They either learn from their mates or neighbours on how to more efficiently break into cars and so forth, or they learn a trade, they get out of prison and stay out."
While Australia's recidivism rate (circa 40%) is not as high as the US (circa 83%) it also has a bit to go to compare with European standards where, for example, Norway's rate is circa 17%. The average cost of a prisoner in Australia is between $150,000 and $200,000. When you consider that the average sentence is three years, and take into account the recidivism rate, each prisoner works out to cost close to $1m.
"If we can reduce that by a couple of inmates, that saves a fortune, especially when you've got the growth of the prison population due to some of the questionable laws that are coming into play; non-violent offenders being locked away and so on."
Ron has issues with in-cell technology and PILS being included in any PPP as he says these contracts generally take in the overall cost of the building for 25 years. But technology cannot be considered in the same vein as bricks and mortar.
"You can't put a computer system in place and hope it doesn't change for 25 years. You couldn't even do that with a TV anymore. You've got a more adaptable solution that you've got to consider so you've got to consider ongoing support costs."
It is, he says, still a niche market and while using an off-the-shelf solution will save a few dollars at the outset, it is not going to be effective.
"In my opinion the PILS and in-cell technology should be dealt with by corrective services dealing directly with the vendor because it's got to be adaptable on an ongoing basis to deal with changes in their policy and their processes for how they want to rehabilitate the inmates. They can't have a builder dictate that throughout a 25-year process – that requires input from your education provider, your mental health services and the services who do programs for the final third of sentences where they're trying to re-integrate the inmate."
While a new build gives a blank canvas to builders and integrators to install suitable systems, retrofits are a different kettle of fish as, in many cases, the electrical structures don't line up with newer installation techniques.
Cabling is the biggest challenge in this instance.
Ron explains that you can't put surface-mount cabling in place as it provides a ligature point and thus contravenes health and safety. Burying it in the walls requires dug out channels that end up being almost prohibitively expensive, and WiFi brings security implications as well as connectivity issues when cabling is buried in the walls and hundreds of devices are trying to connect to it.
Ron says they recommend using the existing Coax cabling in the walls as a draw wire, pull UTP through and install some satellite communications cabinets and switches, before installing a secure system such as PrisonPC that consolidates TV as well as the other services.
"Then, because there is less hardware in the cell there are less physical contraband opportunities for the inmates."
Once the technology has been decided upon, it's over to the integrators and installers to work their magic inside the actual prison walls.
New South Wales-based company Kerfoot Electrical has just finished work on the second of two prison facilities – Parklea Correctional Centre and Windsor Prison, both in NSW.
The company's operations manager Josh Kerfoot explains that the Windsor project was a knock down and rebuild job meaning that certain remaining structures had to integrate with newer buildings.
Kerfoot installed the electrical and fire packages in Windsor as well as the mechanical electrics as well which included the building management system, with all required to integrate into the central security system.
So what's it like working inside a prison?
"Even though it was a new build we still had to access and work in a live prison environment. So there are a lot of clearance checks around that to make sure the guys are ok to go inside the prison. Once you're in there, there's heavy security checks around the tools you take in, they all need to be logged and registered. It's obviously harder than a standard environment to work in but it's not that stressful because the processes are all done properly."
Josh says that planning is key to any work undertaken in a prison environment. Gear needs to be ordered early, approvals have to be in place and authorities have to be informed of all methodologies and work due to be carried out.
"The guys need to know exactly what they're doing well in advance because communications are tough being obviously that you can't take mobile phones into jails so you need to be communicating via radio and you need to have that set up well in advance. Every small piece of the job has to be thought of before you even think about starting the job."
Working inside the prison walls is a far more regimented procedure to any other site because, while on a normal site you might switch off power for a few minutes to complete a process, in prisons this is not an option for obvious reasons.
"Basically the rule is you can't turn power off unless temporary power and generators are in place. You need back-ups within back-ups, fail-safe plans in case something happens. Anything that involves the existing prison, the time needs to be spent planning the job properly so that it comes off exactly the way the client needs. We have to be mindful of how they operate the facilities so that we don't impact on that."
Josh says that both prisons they worked on were similar jobs and that it was an interesting variation on their usual work.
"There are some pretty complicated requirements. Obviously vandal-resistant fittings are the biggest thing – everything has to be graded to a level where it can't be damaged by inmates. You're not installing your average power points or your average lights. Everything has to be tried and tested and certified – it makes it a lot more interesting for our guys, they really enjoy working in this area."