Understanding of PoE crucial for electricians installing or servicing intelligent lighting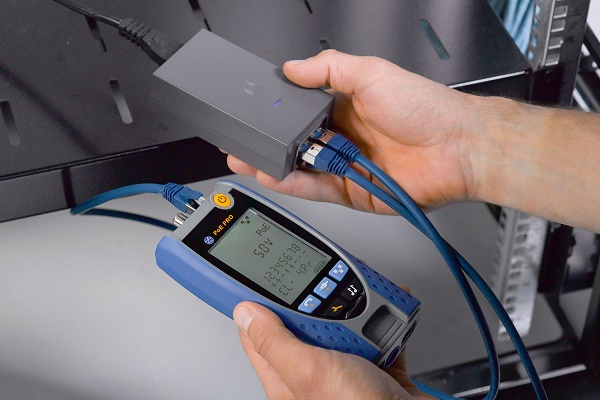 IDEAL Networks is urging electricians to master new skills and equipment to cope with the growing use of PoE in intelligent lighting applications.
In particular, PoE testers can help electricians to conduct quick, accurate PoE validation, eliminating guesswork and getting the job done faster.
"In just a few short years the use of PoE has migrated from IT devices into building systems like lighting, HVAC and access control," IDEAL Networks marketing director Tim Widdershoven says.
"However, the growth of PoE presents issues for electricians, who may have never had cause to work on anything other than traditional electrical cable infrastructure.
"PoE offers clear benefits in many applications, not least that installing just one set of cabling infrastructure is less disruptive and generally more cost effective. So, to stay ahead of clients' demands, it's crucial for electricians to learn the necessary PoE testing and troubleshooting skills now."
The IEEE 802.3bt standard, ratified in 2018, provides the specifications for PoE equipment to provide up to 90W of power to devices over a twisted pair of Ethernet cabling. Combined with high-efficiency LED light fixtures, the amount of power makes PoE lighting practical.
"Electricians installing or servicing PoE lighting systems need to be familiar with the components of PoE lighting systems to ensure proper operation and easily troubleshoot any problems that arise," Tim says.
"Even when live, a PoE system is not always energised, so this means that familiar, standard electrical testing tools cannot be used to test PoE systems."
There is a range of PoE testers on the market from simple LED voltage detectors to testers which measure voltage and power available to powered devices. The PoE Pro multi-function PoE tester from IDEAL Networks measures and reports PoE Class, voltage/voltage drop, watts and injector type which makes it easy to see how much power is available.
Before this, electricians would have needed to understand all the various standards, device power outputs and cable lengths to be sure a device will operate successfully.
"The rise of PoE presents electrical contractors with a fantastic opportunity to confidently expand their service offering," Tim outlines.
"Electricians who are equipped with the right testing tools and a functional knowledge of PoE systems will be able to both ensure that new installations deliver the expected performance and quickly identify faults when troubleshooting."