Teacher turned electrician national winner of Middy's Small Business Awards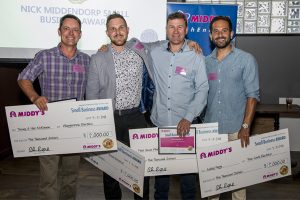 True South Electrical owner Ashley Flegg, who quit his job as a secondary school teacher to set up his own electrical business, has won $15,000 as part of the Middy's Small Business Awards.
The career change was motivated by the opportunity to be his own boss, a promise the electrical trade famously delivers on.
"One of the reasons I was enticed into doing a trade was the prospect of working for myself. I had it in the back of my mind during my apprenticeship that was where I wanted to end up so as soon as I was qualified, I moved in that direction," Ashley says.
The Victorian sparkie won an initial $5000 Small Business Award alongside four other electricians. Other prize winners were Billy Brady of Brady Electrical and Paul Jason Wareham of GIS, who were joined by couple Tracey and Neil McKinnon of Wangaratta Electrics.
Ashley then won an additional $10,000 as the recipient of the Nick Middendorp Small Business Award winner. As Electrical Connection previously reported, the award is named in honour of the late second-generation Middy's director.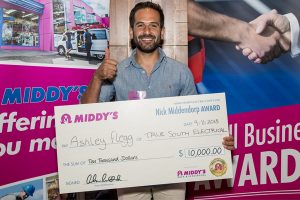 The lucky winner expressed his excitement and gratitude at being selected.
"We deal with Middy's on a daily basis, so we get to know the guys behind the counter pretty well. I was quite chuffed to be selected, particularly with the business being fairly new. It is quite a rollercoaster running your own business, so I guess to receive recognition is always a positive thing. Not only is the money great, but the recognition itself is actually quite nice."
The competition will run again in 2019, so anyone who runs a small electrical contracting business with up to five staff and thinks they deserve a break should start preparing their application.
"One of the things I say to the team is, it's not hard being an electrician, it's everything aside of that which sets us apart. I place a lot of importance on communication. We make sure we have very clear lines of communication with our builders and project managers, and architects and owners. From a project perspective, it just creates a very streamline process."