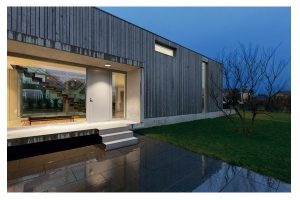 Thorn has announced the launch of Katona, a new surface-mounted wall and ceiling light it promises will solve many of the most common lighting challenges.
Katona is advertised as an "all-round problem solver for almost every lighting task" that "combines market-leading efficiency with easy installation and powerful protection against water, dust and damage," according to a Thorn press release.
Katona is ideal for both, indoor and outdoor applications, as it's rated IK10 resisting impacts of up to 20 joules – and IP65 for ingress protection. It has a 50,000-hour lifetime (to L80) and comes backed with Thorn's five year warranty.
Thorn believes Katona is the ideal light fitting for corridors, stairwells, entrance halls and storage rooms where lighting provides guidance but the luminaire itself has to withstand difficult conditions such as humidity, dust or even accidental damage. The clean design also minimises the accumulation of dirt and dust, ensuring easy cleaning and maintenance.
Katona offers lumen outputs ranging from 1,000lm to 2,000lm and colour temperatures of 4,000K or a warmer 3,000K, and is available in round and square designs. With these options the luminaire provides the right specification for many applications.
Katona's luminous efficacy of up to 120lm/W out of the luminaire makes it easy to save energy, compared to traditional light sources and to other LED options on the market. The Wall Light DALI control, with in-built daylight and presence sensors, a corridor function and the option of wireless connectivity, makes it possible to save even more energy by ensuring Katona is turned off when not needed and illuminated when required.
Electricians and their clients should be pleased by the promise that "Katona's simple design makes it incredibly quick and easy to install. Simply mount the back panel with two screws, then attach the diffuser and bezel. It's just as easy to program the controls, whether using wired DALI controls, presence sensor or via the app with the wireless connectivity option," as stated in the press release.
"With Katona, Thorn proves that wall lights don't need to be bulky and industrial. They can be slim, sleek and modern – and flexible enough for a range of indoor and outdoor applications including hallways and building exteriors. Katona is one product that solves a long list of common lighting problems: from cutting energy consumption to lighting damp and dusty areas, providing emergency lighting, reducing maintenance and simplifying installation. It just makes it so easy to specify," says Thorn Katona product manager Clemens Neuner.
The new Thorn products will be available from 30 November 2018.