Panel beaters: relocatable solar panels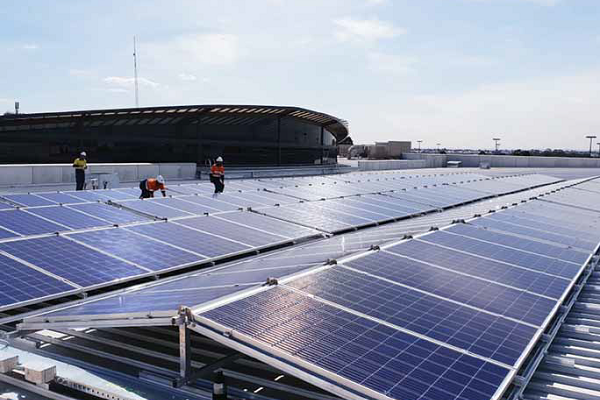 Solpod has established a winner in a relatively short time. Chief executive James Larratt tells Sean Carroll about the company's relocatable solar solution.
In 2017 James Larratt and James Walker founded Solpod, which supplies relocatable solar panel 'pods'.
Since then, the business has taken off far beyond their expectations. The pods are mounted by clamping onto a metal roof or with a 3M structural adhesive, which is used in the automotive industry and for sealing window panes. There is no need for drilling.
The pods then act as a standard solar panel solution but with the additional benefit of being detachable. They also experience low wind loads.
"It's a prefabricated 12-panel module that is assembled in a warehouse, trucked to the site and lifted up by crane," chief executive James Larratt says.
"We're looking at big, flat open roofs on commercial and industrial properties – systems of 100kW or more, so they cost about $100,000 upwards.
"Prefabrication is great, but you need to reach a certain threshold to make it worthwhile."
James says the company has worked on shopping centres and industrial buildings, such as Highpoint shopping centre in Victoria and the Lithgow site of Property NSW.
Solpod has been supported by the Australian Renewable Energy Agency (ARENA), which helped the company find partners to trial the technology.
Solpod has since found a market among property owners.
"Unsurprisingly, they don't like people putting holes in the roof, so we wanted to minimise that," James says.
"We want owners to know we can easily move the system at any time. That's a big difference compared with standard solar.
"With standard solar it costs more to take it off than to keep it up there."
Owners of larger investment properties are probably looking at five-year time slots. The assets may be sold in five, 10 or 15 years.
For solar panels to be cost effective they need to provide power for 15 to 20 years.
The ability to move the pods without leaving any structural blemishes means that owners can rely on a renewable
energy solution for the longer term.
"Beyond those benefits, Solpod offers peace of mind," James says.
"You may be interested in solar panels for your home but aren't sure how long you'll be there. Solpod gives you the opportunity to take them with you or leave them for the next occupants.
"It's been an amazing journey and we're just in our first two years. A few months ago we had a national launch, which went very successfully.
"We got really good coverage in the big newspapers around Australia, but we also got great coverage on LinkedIn. So, our little launch turned out to be a global launch.
"We've been really excited by the response from all around the world and we're trying to respond to that at the moment. It has come quicker than we expected.
"But it does make sense. In the rooftop solar market Australia is a leader in terms of efficiency, the cost of deploying and the rates we operate at.
"So, if we can make something work here, chances are it will work in a lot of other markets around the world – and
that's what they're telling us."
With innovative ideas like Solpod, this young company looks as though the sun won't be setting on it anytime soon.