Mitsubishi Motors' Eclipse Cross PHEV delivers morning coffee in Adelaide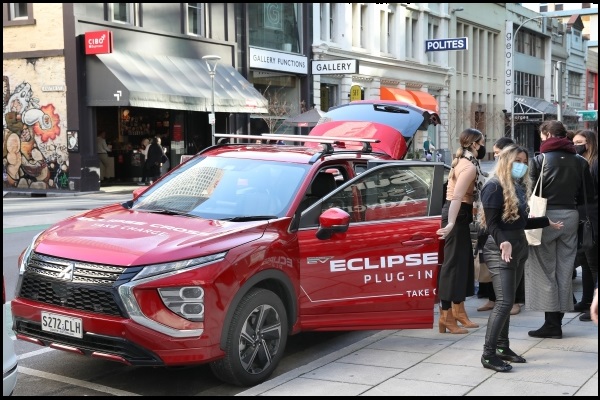 Mitsubishi Motors Eclipse Cross Plug-in Hybrid EV (PHEV) will serve coffee to South Australians over the next three weeks as part of a V2L concept vehicle demonstration.
The tour marks the introduction of the new PHEV vehicle to the market this month, in time for World EV Day (09.09.2021).
The pop-up tour across Adelaide and the suburbs, will launch as a mobile coffee cart before adding additional applications. The tour is intended to raise awareness of the new PHEV in Mitsubishi's range, and to excite customers about the potential of PHEV technology.
Mitsubishi product manager, Tim Clarke, says: "As we develop our vehicle specifications for next year, we're interested in understanding the value drivers place upon these kinds of technologies. We look forward to hearing their feedback."
Vehicle to Load (V2L) technology stores electrical energy in the vehicle's drive battery and allows owners to supply it to appliances like coffee machines, camping equipment or any other device like a mobile grid.
V2L technology was first brought to market by Mitsubishi in 2010, via the iMiev city car.  The technology has been used in the iMiev box (inverter) as a disaster relief application in the Fukushima earthquake, where 89 i-MiEVs went to the recovery effort. This year V2L applications have been used to support mobile refrigeration units for the remote delivery of vaccines in Indonesia.