ABB charges Australia's first 100% sustainably powered full-size electric bus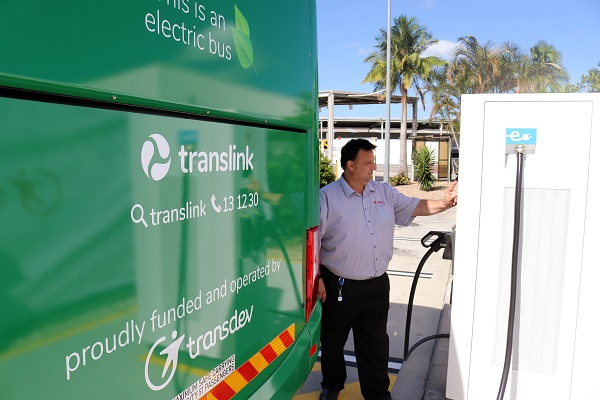 ABB's electric vehicle (EV) charging infrastructure is helping power a 39-seat e-bus on TransLink routes through South East Queensland. Delivered by Transdev, the bus uses ABB's cloud-connected digital solution, meaning it can remotely monitor the charging infrastructure 24/7 for greater reliability.
The transport sector accounts for 18.9% of Australia's emissions, based on the latest National Greenhouse Gas inventory released in 2020.
Transport is the fastest-growing contributor to emissions in the country; at a time where the nation aims to reduce emissions to below 2005 levels by 2030. Expanding the adoption of EVs is one of the most effective ways to lower carbon emissions.
The Transdev bus is 100% powered by 'harvested' solar energy powered by 250 solar panels capturing more than 159,000kWh of local sunshine collected on-site at Transdev's Capalaba depot each year.
ABB Electrification and its installation partners worked with Transdev Australasia to provide an integrated grid-to-plug solution to support its bid to transfer its fleet to electric.
All aspects of Transdev's Queensland depot were evaluated prior to submitting a charging proposal, including analysis of proposed vehicle specification, the number of vehicles being considered, while also accommodating for proposed future expansion of the e-bus fleet.
"Given that nothing of this scale had been done before in Australia or New Zealand, having a supplier like ABB that had local know-how backed with international experience was essential," Transdev Australasia chief engineer Marc Cleave says.
ABB Australia e-mobility sector lead Steven Amor adds: "ABB is proud to be playing its part in powering the future of public transport in Australia. We worked with both Transdev and Australian bus body manufacturer Volgren to develop a charging solution that would enable zero-emission transportation along the bus routes.
"Because buses follow fixed schedules and routes, there is no unpredictability around the range. The anchor decision is the bus charging strategy – because efficient recharging reduces electric bus operating costs.
"For Transdev, ABB deployed its e-bus ready Terra 124 dual outlet fast-charging stations that can provide a single 120kW charge or simultaneously charge two buses at 60kW under five hours and up to a 300km range per charge. This solution minimises downtime and improves utilisation of the busses across the planned route."