Learning difficulties…entering a 'training daze'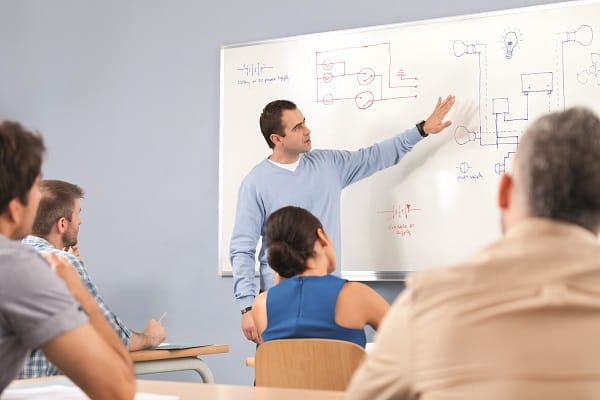 The Australian Skills Quality Authority is targeting 'unduly' short courses, writes Ross McGravie. But what does this mean to an electrical sector where short courses thrive?
When James Tinslay started his electrical apprenticeship in the early 1970s, he was required to attend TAFE one day a week and do most of his learning on the job as experienced colleagues mentored his development.
How times have changed in this age of life-long learning.
The apprenticeship system is still in place and traineeships have been added to the mix to attain qualifications, but the TAFE system has largely been replaced by registered training organisations (RTOs), which upskill existing workers in courses that industry deems necessary to remain current. Safety remains paramount but the day-a-week in the classroom for apprentices has been replaced by students undergoing block release periods of up to eight weeks in, what James calls, "a culture of learning".
Staying abreast of the trends through the "very expensive process" of training – based on addressing technical competencies, future works skills and foundation skills – is not only necessary but crucial for an industry in which change seems to be the only constant.
The one-time head of the National Electrical and Communications Association (NECA) and now an industry training consultant, James says training in Australia has always been hard to perfect.
"We have a very rigid system here. There's a good part to that, but there's also a bad part in that it is very, very hard to change," James says.
"I find a lot of older tradies who say an apprenticeship should be five years long like the old days, so you can fit in more learning. And I know a lot of employers say when apprentices finish their four years, 'You're only just starting to learn things'. But there has been a real pressure in the past 10 years to cut things down and people have tried to cut the electrical apprenticeship from four years to three years and stick in a lower qualification."
This pressure to perform more efficiently and across a broader range of tasks has led to RTOs offering short courses to which employers could send their workforce to top up their knowledge and become proficient in an area in which they may have been unfamiliar.
Australian Industry and Skills Committee chair John Pollaers says there have been examples of successful projects addressing emerging needs.
"A recent example of responsiveness to emerging technologies is the development of two new units of competency for solar and battery storage installation and maintenance in residential homes," John says.
"These units relate specifically to the battery storage systems used with photovoltaic (PV) systems, or solar systems, and will allow learners to achieve competency in this area. But the bottom line is that the need for a rapid response should not compromise quality of training."
However, the widespread reality is that short course outcomes are not matching the expectations of industry, according to the Australian Skills Quality Authority's (ASQA) review of 'unduly' short courses in June 2017.
In its own words, 'unduly short training' refers to situations in which an RTO delivers an insufficient amount of training for a learner to acquire the requisite skills and knowledge specified in a unit of competency, skill set or qualification.
James, who was involved in founding a GTO with NECA in 1988 and remains a director, says the electrical and cabling industry emerged largely untouched by the short courses controversy.
"There's no doubt that the training industry has been damaged by a lot of private RTOs that were there just for the 'tick and flick' and you've read about those in the newspapers," James says.
"But it generally hasn't affected this industry because it's very, very expensive for a provider to teach the electrical trade. The equipment is expensive and it needs to be maintained and updated.
"In the electrical industry, short courses are more about specific topics – often post-trade – but not always.
"I've always been wary of short courses because you just don't know whether they're demonstrating any competency-based assessment or does everybody get a certificate?
"I think employers in general are very wary of short courses, especially when they're online. You wonder how closely they relate to conditions in Australia and regulations, importantly in electrical and communications areas.
"If I was an employer, they would have to convince me it was worthwhile and you were getting what you need to fit in under the Australian Quality framework."
Consultation is continuing about exactly what changes will be made after the ASQA review, but the Cabling Advisory Group (CAG) is in no doubt that an overhaul is required on several fronts. CAG secretary Dominic Schipano, who also heads the Australian Digital & Telecommunications Industry Association (ADTIA), says the delivery of quality short courses had become a "major, major issue".
"One of the things that is worrying our technical people is that the short courses are being – and I'll use their words – 'bastardised' to meet the requirements of either the funding model or to meet the needs of the employer," Dominic says.
"In other words, if an employer says he wants these people out of there (after) three days of training, then the RTOs will run a course in three days instead of five days or 10 days. The drivers for the delivery of the programs are being dictated by the dollar rather than the quality.
"The second point under the quality banner is that the delivery of training is so varied that there isn't a standard approach by the RTOs. It's OK if you're talking about business services or even IT, but when we start to talk about telecommunication or technical aspects, it worries the industry people – even employers – that what they're being trained 1) isn't relevant and 2) RTOs are not delivering quality programs – they're just delivering something they feel they need to.
"One of the recommendations that CAG will be making is that RTOs accept the fact that the industry may have a preferred training program – I won't say mandated training program – that says if you want this person to be a cabler, for example, then you should be teaching them these competencies and these resources that will be available through various sources.
At its simplest, the training is best explained by quality, quantity, cost and time. But that would be doing a disservice to the intricacies involved on so many levels and through multiple layers of regulations and bureaucracy.
As John highlights, "The training system is designed to allow a range of delivery arrangements and durations. Quality of training is affected by a range of factors and quantity of learning is not necessarily an indicator of quality".
Diversity had also complicated an already complex training market, particularly with the melding of the cabling industry, James argues.
"Communications and electrical now are so close they're just different types of cable basically. One runs a 240V or 415V, and the other runs a 5V or less," James says.
"Very rarely do you have electrical people that don't do communications work … You're almost part of the same trade.
"That's where the customisation debate comes in. If you customise a course, you take away the foundation skills, yet you still need them."
Dominic says the auditing process also needed improvement.
"We've split auditing into two parts. One is the auditing of the technical aspects of the training. If ASQA is going to do auditing of a certificate or qualification in telecommunications, then the auditors need to have a technical person with them and not just do a desktop analysis of whether they have the right documentation," Dominic says.
"The second part of the auditing is that ASQA needs to allow the Department of Communication or the ACMA or NBN Co to go in and discuss the programs with the RTOs so that they are delivering contemporary programs."
The deeper one digs, the more apparent it becomes that there are no quick fixes.
James would love to see mandatory national standards that include a series of practical assessments to complement the theory of the short courses. But states are unlikely to relinquish the jurisdictional controls they have.
Likewise, John says it is "too early" to speculate about how ASQA's recommendations (see breakout) could be implemented.
"The role of the AISC is to endorse training packages, not to oversee delivery. However, we encourage IRCs to give feedback on how these recommendations may affect their industries as part of the current consultation process," John says.
"There is no ideal structure for a short course – every course should be fit for purpose, taking into account the needs of the learner, the priorities of industry, delivery arrangements and what is required to demonstrate competency,"
In an ideal world, Dominic would be free to enact rapid change to ensure the long-term relevance and quality of short courses. But he's also realistic that things will take time.
"There's no simple solution," Dominic says.
"That's one of the reasons why Gabriele (Giofre, ADTIA operations manager) and I have gone out to industry and says 'You tell us what your thoughts are – whether it's RTOs, the employer or the industry association because we're going to try to meld that all under the one umbrella'. It is going to be difficult.
"Let's say we have enough influence and impact on governments across the board … what the industry would like to see is that, in 12 months' time, there will be a recognition that qualifications aren't the only currency for training and funding.
"If we're looking at the delivery model, then we would influence the RTOs within three to six months through the industry association through volume of learning and so on. If we can set up industry programs that are being supported as a requirement to meet industry standards, that's where we will be successful."