IKEA Australia to transform their stores into clean energy power stations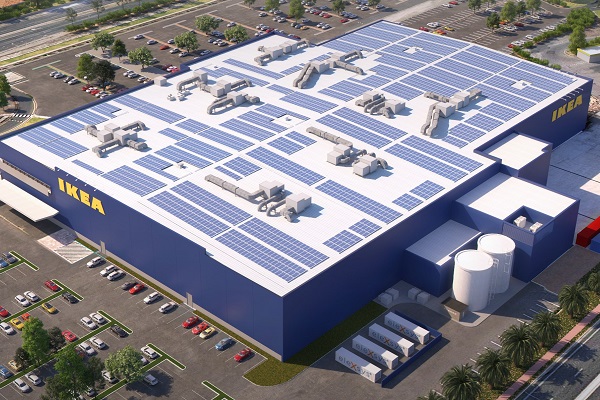 IKEA Australia has announced the launch of Australia-first clean energy storage initiative that will support the South Australian power grid with Planet Ark Power at IKEA Adelaide.
Dubbed the IKEA Australia Clean Energy Transformation Project, it will transition IKEA Adelaide to operating with 100% renewable energy by 2025 and will generate low cost and clean energy for the Adelaide community.
Stage one of the project will see 1.2MW of solar panels installed onsite on the rooftop of the Adelaide store with a 3.4MWh onsite battery which will be managed by Planet Ark Power's digital platform, the eleXsys energy management system.
On top of that, EV chargers will be installed on site for customers, co-workers and the IKEA delivery fleet within South Australia.
The second stage will include the construction of sustainably-sourced timber PV shade structures across the IKEA Adelaide car park. These structures will also host solar panels, increasing the amount of surplus energy to be sold into the grid while continuing to power the site.
This second stage will generate a further 30% of the store's energy needs, resulting in IKEA Adelaide becoming 100% powered by onsite renewable energy.
"We are thrilled that this project will create new opportunities for job creation, innovation, economic growth and reduced energy costs," IKEA Australia chief executive and chief sustainability officer Jan Gardberg says.
"Our ambition is to be the first mover and inspire other IKEA stores to install larger solar installations, batteries and digital solutions. Planet Ark Power's eleXsys energy management system will support the balancing of the electricity grid not just on stores in Australia, but across the IKEA network around the world."
Planet Ark Power chief commercial officer Jonathan Ruddick says the inclusion of its eleXsys energy management system is the critical link that makes the IKEA, grid-connected microgrid project to innovative and world-leading.
"Our eleXsys technology solution functions to ensure certainty of revenue streams from the export of surplus solar energy and grid stability services into the grid without the risk of curtailment by electricity network operators," he says.
"We are particularly proud to contribute to the IKEA journey to achieve 100% renewable energy at their Adelaide site while also helping SA Power Networks provide more secure, clean energy to the broader South Australian community."