Electric vehicles: batteries included
For the third and final article in his series on electric vehicles, Peter Vandenheuvel covers hazard management, charging considerations and employee benefits.
Batteries pose serious hazards, all with their unique risk and management requirements.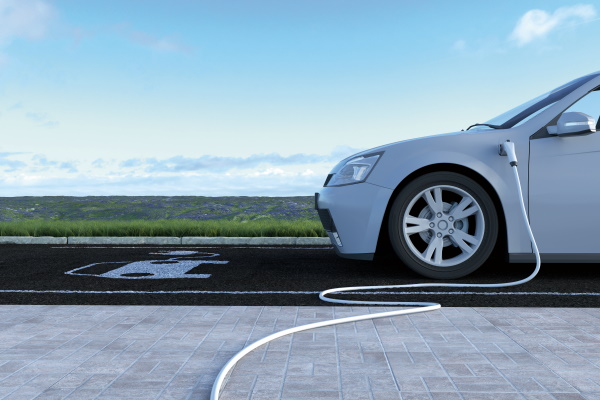 Many are the day-to-day hazards that electricians and contractors are already aware of, so they will not be dealt with here.
However, for tradies that don't regularly encounter installations with a substantial DC supply (in terms of amps, volts or both), the awareness may not be there. After all, we don't want another 'home insulation' tragedy.
A typical 12V 200Ah battery (which would move a smallish EV about 10km) can generate an arc flash of 6,000A to 10,000A. Given that it's a DC arc flash, it should be remembered that this may not be readily interrupted.
Even with a battery that could move an EV only 100km (and we are already talking of batteries that can do three or four times that), our 100km range battery would have around 10 times the energy stored in the single 200Ah battery.
Further, if that energy release is in a fraction of a second, its I2t effect will cause an explosive force much greater, so the arc-flash hazard can have lethal consequences.
Unaware people (most of the population, including electricians not experienced in dealing with larger battery banks) see a collection of batteries as no more of a hazard than the one 200Ah battery so wouldn't be fearful, let alone view it as a catastrophic hazard.
Likewise, most DIY enthusiasts wouldn't see any danger in building their own battery set-up, even from second-hand lead-acid car batteries.
Although a new Standard is in play (AS/NZS 5139 Safety of battery systems), its requirements are unlikely to be complied with, except by informed and properly qualified electricians. Therefore there is a need to create a more general hazard awareness.
The Standards for transportable and relocatable homes may also need to be revisited, as storage batteries can often be tucked away in the most unusual places – including under beds.
Industry opportunities
The industry as a whole could help to ensure that by the issuing and insisting of having qualifications to do the low voltage and higher DC works the hazard is properly addressed.
It would then train workers for working with batteries and also create awareness of the hazards to people and property and at the same time try to discourage the DIY approach.
Companies could secure work for themselves as expert contractors and electricians. They could also become a 'battery-safe practices' advisor and undertake safety audits and remedial works.
Power hungry
The primary source of EV charging power will generally involve governments, electricity generators and retailers – all with their own agendas.
Even OPEC, wary of fossil fuels becoming uncompetitive, may open and close the 'oil tap' to suit.
The inescapable fact is that we will need much more power, with a likely 7-15% increase in demand from EV take-up (more if that take-up exceeds the 50% level), especially allowing for the N+1 redundancy principle for generation and distribution network stability.
Regardless of how much extra electricity is needed, it is fair to assume any new generation is likely to come from both upgrading or extending existing generation facilities and the building of new. This will, of course, include more renewables, but it will possibly still be fossil-fuel dominant.
Industry opportunities
Electrotechnology manufacturers and power station operators could keep extending the lifespan of different generation technologies already in place.
The larger installation companies could play a big part in wind turbine, PV and conventional generation infrastructure efficiency and growth.
Medium sized and smaller companies could be part of those larger company undertakings.
The uptake of additional domestic and work-based PV systems will also increase.
EVs as back-up
This is a very interesting sleeper, and technically at least the methodology already exists.
Electricity utilities could use the energy in an EV when it is being charged and connected to the grid (or an EV set-up already connected) as a back-up feed-in supply in case of network issues. This has the potential to almost eliminate power blackouts, or at least contain them to the few streets in proximity to the fault.
This can also apply to an EV owner's home, as a typical 90kWh battery (as in a Tesla EV) could power an average house for three to five days.
That could be even more appealing if a stationary battery was part of the EV charging set-up.
Further, there's the potential to create a huge bi-directional market in which the energy stored in EV charging set-ups could be used as a large reserve in times of need or peak demand.
All it needs are smart WiFi connected chargers, inverters and converters with 'smart links' that can be programmed to suit set-up owners and their utilities.
This is probably one of the most appealing aspects of the wider implementation of EVs.
Industry opportunities
Electrical contractors could design, sell and install the smarts – the switching, smart metering, smart chargers, inverters and convertors – then program the systems.
They could also sell and install new or additional battery storage to people considering stand-by power in place of adding a fossil-fuel generator to their installation.
Charging charges
For an EV generally being charged in a residential situation the cost will normally be at the owner's highest kWh charge rate.
EV charging will push the bill into that bracket even when using solar panels, as the energy diverted to the EV will mean the use of more metered power – unless their system already has PV generation to spare.
What to charge, how to charge, how to make it equitable, etc, are complex issues not dealt with in this article and for good reasons. Whoever is considering this will need the wisdom of Solomon, and will still regret getting involved, especially where the charging is subsidised, free, rationed or not available equitably to all.
Industry opportunities
Contractors could develop or adapt integrated charging, timing, rostering, billing and payment systems for companies (and for commercial charging stations). They could also:
– identify prospective enterprises as purchasers of charging stations and charging systems;
– install, service and manage these systems;
– encourage companies to examine their customer base for those that might offer charging; and
– provide turn-key planning, site selection, building, development, installation and commissioning, including operational management or support.
Tax considerations
The excise on fossil-based fuel is about 41.6 cents per litre, contributing $12.4 billion to the federal government in 2018.
A substantial change from fossil fuel to EVs will drastically reduce this government income stream, so the shortfall will have to be made up.
How that will come about is anyone's guess, but happen it will. So any savings in changing to EVs will be eroded by whatever tax or levy is introduced or altered as a consequence.
Fringe benefits tax may affect employers and employees if free or low-cost charging is provided, especially when employers have cheaper power tariffs.
However, it's assumed that any charging benefits, or EVs provided in a salary package, will be treated similarly to conventional vehicles. The only issue would be ensuring equity in the workforce.
As far as GST is concerned, the current arrangements will presumably apply to EVs.
Industry opportunities
Contractors could approach suitable enterprises to offer installation of charging stations or points.
Employers could use their ability to buy substantially cheaper power and offer charging to attract and retain employees.
Contractors could also bring into play their understanding of the tax effects when advising customers on providing EV charging.
To EV or not to EV
Various considerations will influence EV take-up for each user, depending on their particular situation and how well the technology fits in.
Where the EV is generally charged  will be of particular importance, given the wide variation in energy costs between the states and how secure any free or cheap charging opportunities will be over the lifespan of the EV.
Other issues are the savings with an EV, all-up cost of charging, owner lifetime cost compared with a conventional vehicle, battery life span and replacement cost, resale values of EVs where battery life is near its end and any new government costs and charges, etc.
Industry opportunities
EVs require considerable interaction with electricity at several levels.
Aware and informed contractors and enterprises will derive most benefit by becoming the industry EV 'guru' and 'go to' source of advice and specialist services.
This could involve 'cradle to grave' EV support in domestic, industrial, commercial and government facilities.
Summary
This series of articles was envisioned to show the complexity of an EV rollout and the industry opportunities it presents.
The change to EVs over the expected 20-plus years of the key implementation activities will provide many new opportunities.
There will be new jobs, career-path promotion, new skills, new specialist sector leaders, new technology, new products and new ventures.
Most of the hands-on work in the field will be done in Australia, thereby boosting the economy.
There are many pieces in the puzzle, and it's important to understand how they interact.
Will it substantially reduce our carbon emissions? Unlikely, unless the current fossil fuel-based generation is substantially replaced by renewable energy sources. And, this will bring about its own problems in terms of capital cost, much reduced generating plant life-spans for renewable power sources and possibly considerable further energy supply cost increases.
From the experience in other countries it seems there will be considerable support for the change to EVs and for those countries that have (or have the potential for) substantial excess hydro-electric, low-cost renewable or nuclear power supply available it can be very worthwhile. For countries like ours, not so well endowed with such resources, it may however be considerably less appealing.