AI-powered startup fighting to ease financial burdens faced by SMEs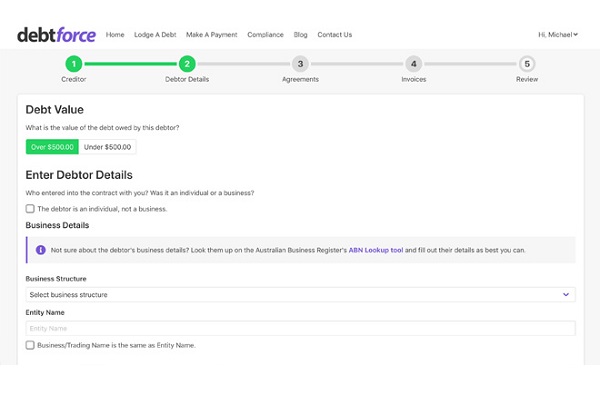 DebtForce, an AI-powered debt recovery platform, has launched across Australia as it aims to empower SMEs to gain control of their finances through its quick and intuitive platform.
It was created by two technology entrepreneurs and two lawyers with the goal of empowering SMEs, helping to ease the financial burden which sees these businesses fail within their first five years.
DebtForce chief executive and practicing litigation lawyer David Rennex says late payments are an inevitable part of doing business and it's a burden that many SMEs suffer from, leading to cashflow bottlenecks and in some cases, insolvencies.
"As a practising litigation lawyer, debt recovery is among the top concerns for SME clients, but it's often an expensive and timely process," he says.
"The vision for DebtForce is to make the debt recovery journey easy to navigate, and accessible to businesses of all sizes; managing claims starting at $500 up to $100,000. There are no upfront fees either, DebtForce only takes a commission if the debt is recovered."
DebtForce has already helped many local businesses recover hundreds of thousands of dollars in bad debt, including Tormax, a local automatic door maker operating in the construction industry.
Tormax head of finance Michael Vella says the easy-to-use platform has provided great support in traction with its debtors: "As a business in construction, once a project is completed debtors may have very little motivation to pay their debts," he says.
"The time it takes to chase these debtors internally is too high. DebtForce have had an outstanding record of success in collecting these debts, especially when compared to the standard debt recovery process that operates more on a 'numbers game' philosophy of hitting the debtor with high frequency contact only."
DebtForce can be found here.