How to install a 103" plasma
How many people does it take to install a TV? Well, when you're talking about a 103" Panasonic plasma display the answer is six, plus two to operate the crane. Paul Skelton reports.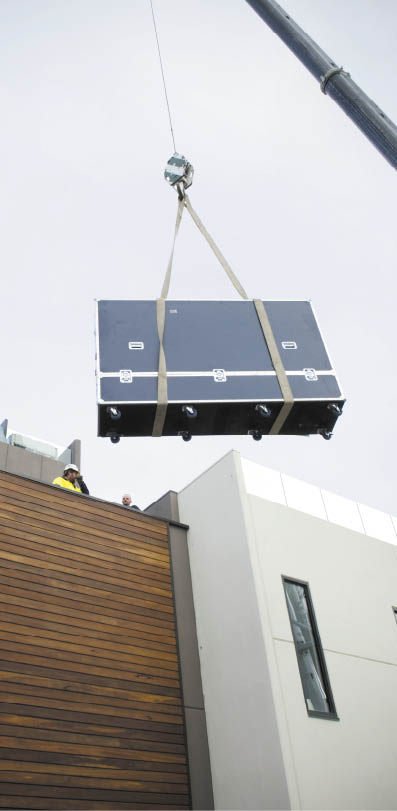 The installation of a 103" Panasonic plasma display screen is no mean feat; in fact the vision of a 2.6m screen suspended from a crane over the Port Melbourne skyline was a spectacle to be beheld.
It also begged the question: at what point do you opt for a projection screen over a HDTV display?
The 103" display, which has a lifespan of 100,000 hours and has to be serviced every six months, is only available through a limited number of integrators who comply with the installation/maintenance requirements dictated by Panasonic, of which there are a few.
First, it is mandatory to conduct a pre-site-survey to confirm that the product can be carried in and installed at the suggested site; it is imperative the site has an access point through which the product can be safely carried in. The surveyor also tests to ensure the site has the required strength for the product to be installed – reinforcement on the floor and/or wall may be required in some cases.
For installation, only a Panasonic-approved pedestal stand, wall-hanging bracket or ceiling-hanging bracket (optionally supplied) can be used. Other installation options are not available and not approved.
For the Port Melbourne installation the screen (RRP $68,000) arrived on-site in a specially designed road case, similar to those seen pushed around by roadies at rock concerts. Simply getting the screen off the small Avis rental truck was a task in itself, with a co-ordinated combination of automated and manual trolley lifts being adopted – much like a synchronised swimming display, just not in the water.
The key? Improvisation – an ideal that has become quite central to the home automation sector.
Upon craning the screen onto the third-storey balcony of the Port Melbourne townhouse, the team at custom installation outfit Howdoi.com then had to move the screen into position before commencing the two and a half hour installation process.
Rather than relying on a third-party installer to complete the task, the team opted to complete a half-day course conducted by Panasonic Australia's head technician so they could complete the task in-house to fit their schedule – this way they could better manage the project and adhere to the timeframe they gave their client. Further, upon completing the course, Howdoi.com became one of very few Australian integrators qualified to install these 103" screens for other parties that require the service.
In the end, the client ended up with the ultimate HDTV experience and Howdoi.com ended up with another skill in their growing stable, as well as a story to tell for years to come.