ESV giving back to the community through local canteens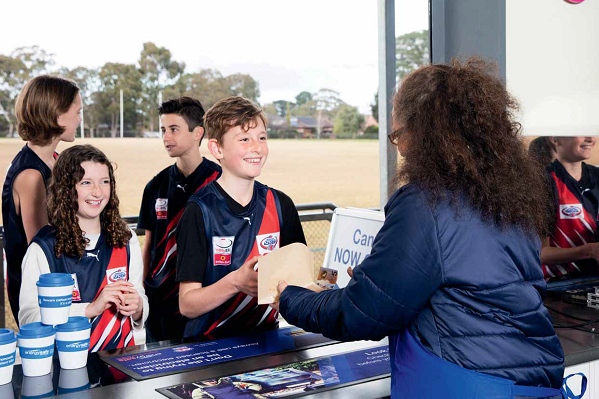 A grants program from Energy Safe Victoria is putting the safety of local volunteers front and centre. Paul Skelton reports.
Australians are a philanthropic lot. Every Saturday in the peak of winter, hundreds of volunteers descend upon the 1,942 local AFL clubs to man the canteen for no reason bar the love of their community and an appreciation of the game (even if NRL is better).
However, a lack of funding means many of these volunteers work in less than desirable settings, surrounded by potential safety hazards.
To remedy this, in 2018 Energy Safe Victoria (ESV) partnered with AFL Victoria to launch a grants program that would lead to improvements in electrical safety in football club canteens around the State.
"Volunteers attend these facilities day after day, which is a wonderful thing to do. Volunteerism is one of the beautiful things about Victoria; we're good at it and these people should have good, safe facilities," says ESV head of communications and marketing Jonathan Granger.
"But it appears that the 1980s were a boom time to buy canteen equipment and a lot of it hasn't been replaced to this day.
"These clubs do great things for the community and we want to show our appreciation for the work they do while at the same time build up their energy safety culture."
Jonathan explains that part of ESV's mandate is to educate the Victorian public on energy safety, which isn't an easy thing to do.
"You can put money into advertising campaigns and place advertisements in magazines, on TV and on the radio but how do you get them face to face?
"I know that when my kids play footy, I stand outside the canteen staring into space, wishing the line was a bit shorter. That's how we noticed there is a heck of a lot of real estate around the canteen that could be used to promote our message."
For some years now ESV has sponsored AFL Victoria, which Jonathan says has worked "very well".
"It was because of this existing relationship that we decided to launch this grants program.
"In return, we get to place signage with safety messages in front of more people.
"Hundreds and hundreds of people line up at the canteen even in small clubs, every weekend. We're getting all those people staring at our safety messages."
Now in the second year of a three-year run, the grants program has already awarded $50,000 to needy clubs in dire need of repairs.
"So far we've awarded grants to more than 60 clubs around Victoria. Not every club takes the full $1,000; some only take a couple hundred dollars, which means we can help even more clubs.
"This year we helped 30 clubs from 109 applications across the State."
Jonathan says electricians would really not be impressed if they walked into some of the clubs that have sought assistance.
One club, he says, featured an oven that was held closed by a wooden spoon. Another one sported a bain-marie that was purchased secondhand in the '80s.
"There's one in the northern suburbs where there are no seals on the fridge at all and the fridge door is hanging on by one hinge," he says.
The criteria in place for clubs to be awarded the grant is quite strict, Jonathan says.
"We won't accept anything that's bought on eBay or Gumtree or anything like that. It has to be a new product.
"Clubs have to submit the cost of the new product. If it ticks all the boxes, we then have our own technical people look over it."
Successful clubs must also support other sports, like netball or activities that appeal to both men and women, or people with special needs.
"You can always put your logo on a shirt or a ball or something like that, but at the end of the day we need people to read exactly what we want them to do and what better way to do that than when they're standing in a canteen line without much else to do, except to try and brush off the child who is whinging to get another hotdog?"