Epson's new 3D projectors launch in "Star"-studded affair
Epson's new 3D projectors were unveiled last night at a Star Wars-themed product launch at local distributor Alloys' Collingwood, Victoria HQ.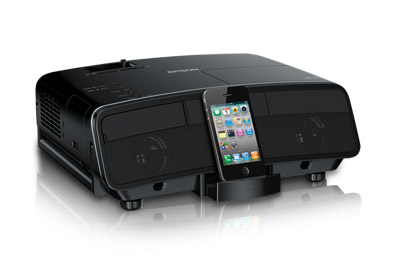 Epson's new range of 3D projectors has something for everyone – from the entry level MG-850HD with its built-in iPod dock and 10W speakers to the integrator-friendly TW9000W, which includes the handy functionality of WirelessHD.
The MG-850HD (as seen in image) is an easy-to-use and flexible multimedia system for home users and professionals that fits into virtually any setting – whether in the family room, at the office in a conference room presentation, or even outdoors around a barbecue.
The MG-850HD uses Epson's 3LCD technology to deliver reliable performance, high brightness of 2800 lumens light output, contrast of 3000:1 and colour reproduction at up to 1280×800 WXGA resolution.
The two built-in 10W stereo speakers allows the MG-850HD to be used as a stand-alone speaker dock with four optimised audio modes. And with the microphone input, users can narrate photo and business slideshow presentations.
It features USB Plug 'n' Play instant setup, enabling users to instantly project from a PC or Mac or show slideshows via USB. Set up is easy with automatic vertical keystone adjustment and a horizontal slide keystone correction allowing the projector to be offset from centre so players can stand in front of the screen when playing console games.
WirelessHD
In the higher-end range of projectors, WirelessHD connectivity eliminates the need for cable connections to Blu-ray players, game consoles or set top boxes.
Further, Epson's 480Hz shutter system minimises the blackout time (crosstalk) of 3D glasses. The less time the lenses are closed, the more light can come through resulting in a brighter image.
The custom install range includes the EH-TW8000 and EH-TW9000W models, both with light output of 2400 lumens and contrast ratio of 200,000:1.
Epson has introduced a newly developed LCD panel for its 3LCD light engine in both ranges, the D9 C2 Fine panel with an aperture ratio of 65%, and a higher power 230W version of Epson's patented E-TORL lamp. The result is bright colour and white light output in 2D and 3D modes and a dynamic contrast ratio of 200,000:1 for incredible black levels with a clear, clean picture and viewing on larger screens and in a range of ambient light conditions.