Push Controls' Golden Ticket promotion
One lucky Push Controls dealer is on their way to Singapore.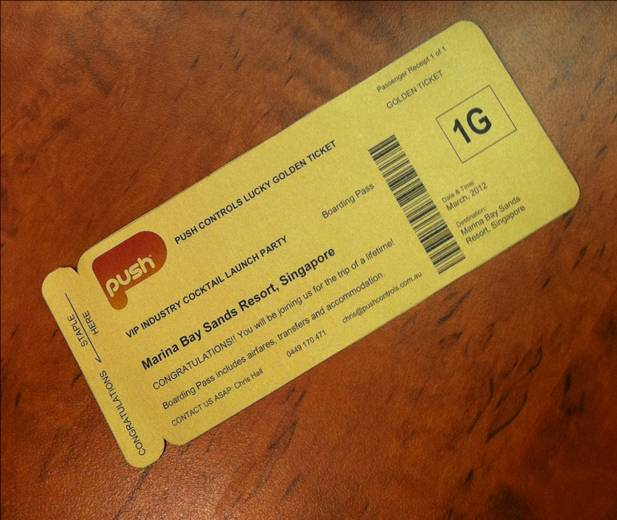 The team at Push Controls has always prided themselves on thinking outside the square, a strategy that has unquestionably paid off for the young business which has gone from strength to strength over the past 18 months.
So the question becomes: "What's next?"
Perhaps while experiencing a sugar high that Gene Wilder would be proud of, Push Control's resident prankster Jason Lewis has decided to make things a little more exciting for everyone.
In his very best Charlie Bucket impersonation, Jason has taken to the streets to proclaim that he has a golden ticket. A golden ticket that will send one lucky Push Controls dealer all the way to Singapore.
Jason has put aside 60 special boxes, one of which includes an 'Access All Areas' golden ticket to Singapore to attend the company's VIP cocktail party at the Marina Bay Sands hotel. These boxes are sitting on the company's loading dock and will be first ones shipped over the coming days.
Make sure you check the box when your stock arrives. If you find the ticket, simply fill in your details and send it back in the reply paid envelope.