E4Q energy chain from igus saves assembly time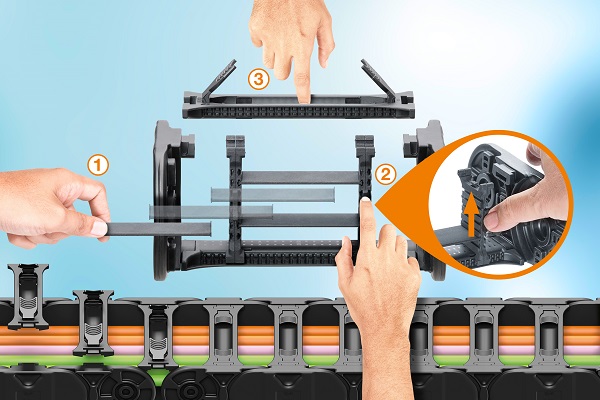 Igus has released the E4Q energy chain, a design series that saves weight while a crossbar with locking tabs reduces the assembly time of the energy supply system by 40%, ideal for safe cable guidance in unsupported long travels.
Further helping cable filling, igus has also launched an interior separation for the E4Q which automatically locks the chain when closing.
Simple and assembly-friendly were the goals of the igus developers with the E4Q. Using a naturalistic design, it saves 10% weight while also being much more robust than its predecessor in the E4.1 series.
The energy chain can also be opened and closed completely without tools, a concept which helped it secure the German Design Award 2021.
"Even if the fitter has forgotten to secure the shelf, it's not a problem," igus head of business division e-chains Jörg Ottersbach says.
"When the crossbar is inserted, the lock is automatically activated. A foolproof and safe concept for all occasions."
The E4Q energy chain can be configured with cables and the interior separation in the e-chain expert on the igus website. igus promises a guarantee of up to 36 months on the complete energy supply system.