Beat the squeeze: estimating job time in complex environments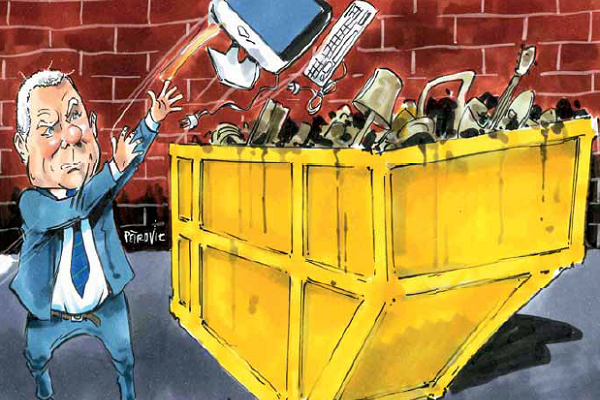 Projects are increasing in complexity while the construction time is decreasing. Brian Seymour shows how to figure out what's what.
An accurate estimate requires a lot more than just weighing the drawings and multiplying by the pages in the specification, or 'price per point'.
However, I see electrical contractors doing little more than that by relying on estimating software as a panacea.
The computer program is only a tool. It can take a lot of boring tasks out of the job and do calculations at the speed of light, but it takes a thinking human to
input relevant data.
To accomplish accuracy you need to be on top of every area of business.
'Vogue' plays a vital role in the analysis of what makes or breaks a business, and in evaluating its potential. As the estimator, you play an important part in your company's future. By studying vogues, you can determine what suits your company's expertise, skills and volume capability. It will also refine your estimating skills.
Take time to evaluate what job types you are winning, then determine which ones are profitable and why. Is it due to the skills or size of your workforce? Is it because of the plant and equipment at your disposal, or exclusive product licensing?
Whatever the reason, as the estimator it is your responsibility to analyse the trends and question your expertise in reading the indications.
Understanding your company's scope of work is obligatory. Make a list of projects won and the common aspects that have given your company an advantage over the competition.
There's a lot more involved than just reading the electrical documents. Often there are installations and equipment seen to by other trades that are not shown on the electrical documents – such items as the sub-mains from the main switchboard to the mechanical switchboard.
Do not rely on the architect or engineer. They have a habit of providing 'notes' that imply you are responsible for everything, but then include words like 'by others'. Do you know who the others are?
Furthermore, there is often confusion in terminology between plans, specification, contract and notes – do they all mean the same thing?
The estimator's role is continuous learning. With innovation and improvements in technology occurring with great frequency, you need to keep up to date. There is a great risk in attempting to estimate a new system of which you have no knowledge or experience.
On the other side of the coin, you need to evaluate the job types that you lost. You cannot just shelve them and put it down to bad luck. Once again, is it due to workforce skills or size? Is it because of the plant and equipment at your disposal? What must be changed or improved to turn similar jobs into winners?
You may need to change your estimating technique or system to take in the areas that are lacking. It could mean attending information or training sessions by vendors to ensure you cover all the requirements for installation of their equipment or systems. Internal training sessions may be on the cards to make your staff familiar with specific techniques.
Whatever the reason or the cause, it is your responsibility to decide whether your company even wants certain types of work. If it does, you have to improve your estimating knowledge and techniques, recommend additions to plant and equipment, or nominate specific skilled workers.
It is difficult to compete on price, and it's a full-time job finding ways of reducing costs and hunting down inefficiencies.
Some of the aspects you must keep abreast of are contract conditions and OHS requirements.
The use of certain tools and equipment, protective clothing and numerous regulations add considerable cost to a project. It can be disastrous if these costs are omitted from the estimate.
Some of changes in the construction industry that can be expensive for an electrical contractor are:
a growing trend towards multitrade prefabrication due to 'green' regulations and the push for greater productivity;
prefabrication in residential and commercial projects, from cabling products to switches, outlets and other visible components; and,
modular construction to improve performance on cost, site labour, waste and completion deadlines.
We have considered the importance of developing a plan for your estimating department to set achievable goals, examine previous losses and successes, and analyse possibilities for future works.
After six months you need to establish whether your plan has been well executed and productive.
Did the plan help the estimating department to tender for more jobs? Did you win or lose more? Why did the plan help you win, or why did it cause you to lose? On the jobs won, did profit margins increase? If so, was the plan a leading factor?
Estimators are well aware that some building contractors will pass a tendered price on to a mate. You should establish a 'banned tender' list to avoid being used as a check price. Other contractors call for prices early then shop them around to get the lowest figure, resulting in an unprofitable job for the successful electrical contractor.
Your company's assets must be used wisely. Tendering documents should include expected milestones for the job to ensure that the assets are available at the nominated time, because falling behind the construction program can be expensive – even more so if the contract carries high liquidated damages.
Many electrical businesses have gone into receivership due to not observing or understanding commercial stipulations in the specifications, such as liquidated damages and payment clauses.
You might have made a great takeoff and included all the works for the installation, but a couple of commercial clauses have sent the company to the poorhouse. Be sure these commercial clauses are read and understood before completing the selling price. If they are too complex, seek advice.
Today's projects increase in volume and cost, while the allowed construction time is decreased.
It is the estimator's responsibility to check the timeframe. Some contracts specify the calendar dates to completion and others use working days. If you get the times wrong it can be disastrous. Working days need to take in annual leave, public holidays and rostered days off .
There's another area that needs a great deal of thought before taking on an estimate – projects involving buildings on the National Heritage List or similar state and municipal lists. Such places are protected.
If you are proposing any action that will have, or is likely to have, a substantial effect on the values of a heritage building or site you must refer that action to the relevant authority. It can be expensive if you don't meet the requirements.