Legrand Wireless Charging Solutions Wins 2018 Good Design Award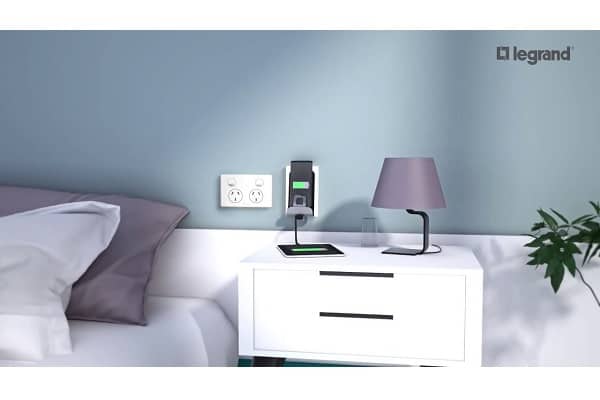 The winners of Australia's Good Design Awards were announced at the Sydney Opera House on 17 May at the 60th Annual Good Design Awards Ceremony.
Legrand Wireless Charging Solutions received a prestigious Good Design Award Winner in the Product Design category in recognition for outstanding design and innovation.
"The Legrand wireless charging system provides a functional, low cost solution to wireless charging. With consumer demand for wireless solutions across connected devices such as smartphones and tablets, this is the right product at the right time. The design team nailed the brief to develop an integrated solution that will blend seamlessly into any modern home / office environment," says the Good Design Awards Jury.
The 60th Anniversary Good Design Awards attracted a record number of entries. From the 536 innovative designs, only 260 projects were selected to receive the coveted Good Design Award.
The winners were presented with the new sustainably designed Good Design Award trophy in Sydney. Special guest, Jan Utzon – son of Jorn Utzon, who designed the Sydney Opera House – presented the Good Design Award of the Year on stage and congratulated all of the 2018 Winners.
Winners of the Good Design Awards will be showcased to the general public during Vivid Sydney, the world's biggest festival of light, music and ideas in Sydney from 25-27 May 2018 at the Overseas Passenger Terminal, Circular Quay.
The annual Good Design Awards is Australia's highests Awards for design and innovation with a proud history dating back to 1958. The Awards celebrate the best new products and services on the market, excellence in architectural design, digital and communication design and reward emerging areas of design including business model innovation, social impact and design entrepreneurship.