Fujikura releases new splicer range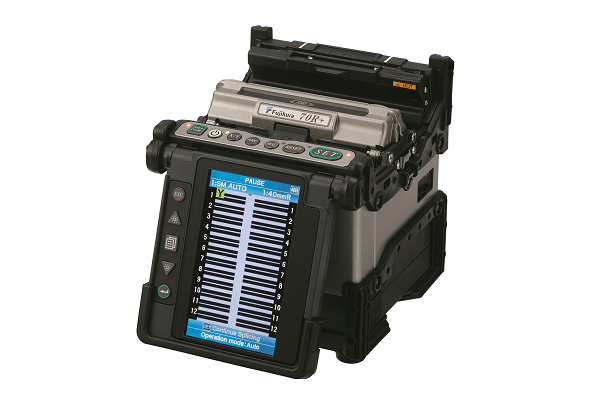 Fujikura has released its new range of splicers, made up of the 70S+, 70R+ and 62S+ models.
The new splicer range features the addition of Bluetooth capability to wirelessly communicate parameter settings with a smart device. With a six second splice time and nine second heat/shrink time, Fujikura claims that its 70S+ model is the fastest splicer on the market.
The 70S+ offers programmable features, such as an automated wind protector, and independently programmable sheath clamps that aim to reduce splice time and increase productivity. The 70S+'s battery life provides 200 splice/heat cycles and long-life electrodes that provide up to 5,000 splices.
An economical alternative to the fully- 70S+, the 62s+ uses a conventional wind protector and tube heater design.
With a 23-second shrink time the 62S+ aims to provide a high level of productivity. The 70R+ is the world's fastest and most ruggedised ribbon fusion splicer. Splice/heat cycle time has been reduced to 18 seconds (using FP-04(T) splice protectors), with battery life of 110 splice/heat cycles and extended electrode performance of 1500 splices per set.
All three splicer models feature fuse connect compatibility, a large monitor, built-in instructional videos, and a fully-ruggedised design that is shock, dust and rain proof. Fujikura is distributed in Australia by AFL.