Laser Tradies come together for School Project.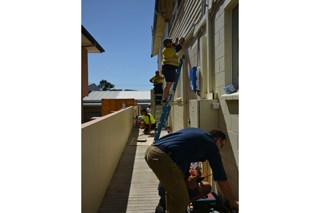 In September, around 400 plumbers and electricians from Australia and New Zealand will descend on Fiji for their annual conference.  In line with the company's commitment to being socially responsible, many of the men and women of Laser Group will arrive a day early to take part in the Laser Group Charity Taskforce project.
The Taskforce sees the plumbers and electricians of the Laser Group take on a local project, using their skills to give back to the community hosting the conference.  With the conference being held in a different place each year, charities who have received assistance from the Group include Habitat for Humanity in New Zealand as well as the Gold Coast Youth Services and Variety in Australia.

This year's chosen project will focus on children, with the Group working with the Fijian Ministry of Education to help improve two local schools with combined enrollments of almost 2000 students.
The Votualevu Public School currently has 923 students enrolled up to year 7 as well as 115 enrolled at preschool level.  Established in 1926, the school is one of Nadi's pioneer schools and has been affected by fire and floods in recent years.
The Laser Group Taskforce will install new roofing on one of the buildings as well as install drainage, a new water pump and trough for the children to drink at.  Whilst to most these are basic requirements, the children currently have to move rooms when it rains and straddle a crude drain to access water to drink.  At the same time, the Group will be working on the library, painting the walls and installing bookcases for the books which have been donated by Laser Group Members.
In addition to the primary school, the Laser Electricians will also work on Nadi Technical School.  Opened earlier this year, the technical school oversees the training of some 400 students in a number of trade areas including horticulture, cookery, mechanics, welding and plumbing.  The school also runs short courses with 200 students currently enrolled.