Women buck the trend in the Ausgrid program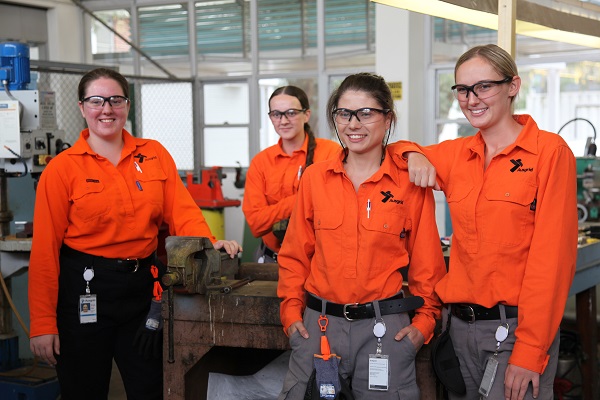 A new apprenticeship program has seen an unprecedented number of women sign up to become sparkies. Anna Hayes finds out more.
Ausgrid's new Bright Spark program has turned heads for the right reasons. Starting in January of this year, there was one notable difference between it and other such schemes – 75% of the apprentices are women.
Ausgrid welcomed 18 apprentices and 10 business trainees at the beginning of the year and they will complete a four-year apprenticeship covering traditional areas of electrical work, as well as new and emerging technologies like renewables, automation and digitalisation.
Traditionally a very male-oriented industry, Ausgrid says the program was designed to be industry-leading and forward-thinking.
Ausgrid executive general manager of people and transformation Hannah McCaughey says the recruitment process targeted female, indigenous and mature age participants among others.
"As part of our efforts to diversify our workforce, we set ourselves a very high target for the number of women we wanted to attract and we're incredibly pleased to have achieved that. We made a conscious decision to appeal to more women and we focused our recruitment campaign in places where we hoped women would see them and respond."
She adds that the program doesn't just focus on the skills but on the person as a whole, with one-on-one mentoring
and additional support from field staff.
The aim, she says, is to show the energy sector as an exciting place to work with these apprentices leading the way.
"Our hope is the next generation of women considering a role in energy won't have any hesitation in following in the footsteps of our current apprentices and trainees who are already bringing fresh ways of thinking and working."
Tahlia Keen, 18, was working a customer service role at Sydney Airport when she spotted the apprenticeship opportunity.
"I got bored very quickly doing the same thing every day and I was looking for a change. I applied because of the learning opportunities, knowing I could go to work every day and learn; and knowing that it wasn't going to be repetitive."
Her brother had previously completed an apprenticeship with Ausgrid and he was quick to share his positive experiences with her.
Ausgrid, she says, has been a hugely supportive environment even if people outside of the organisation react with surprise to her chosen career.
"It's refreshing for people to see a change in the industry that's always been so male dominated. I think if I could go back, knowing this was a career option, it would have helped me to make more decisions at school."
Fellow apprentice Annika van Lierop, 25, was equally complimentary of Ausgrid's inclusiveness, saying that while she accepted there were some jobs she couldn't do, the mentors helped to work around that.
Annika had previously worked in pathology for a number of years and her change of direction into the energy sector was a decision she didn't take lightly.
"It was a big decision because I had a career and I was thinking that if this didn't go right I could be messing things up."
Annika had family members in the industry while she also did her own research and knew that, like medical science, energy was a vital component of people's lives. That, coupled with the fact that trade sectors are crying out for workers, convinced her that it could be a good move.
In Ausgrid, she says, the boys treat you as another tradesperson and as long as you're ready to work, they don't care about gender.
The industry as a whole, she feels, has some way to go yet. Even something as simple as accessing PPE that fits properly can be problematic, she points out.
"I did notice, in some of the social media promotions that people commented underneath about women not making it through the program. But that motivates me. I just want, at the end of the four years, to shake that person's hand and say 'Well, I made it'. You've got to have a thick skin but that's the same in any work environment."