Who needs a smart fridge?
After a much-heralded beginning, the take-up of smart whitegoods in Australia seems to have stalled. Paul Skelton looks at the latest technology and trends for the automated kitchen and laundry.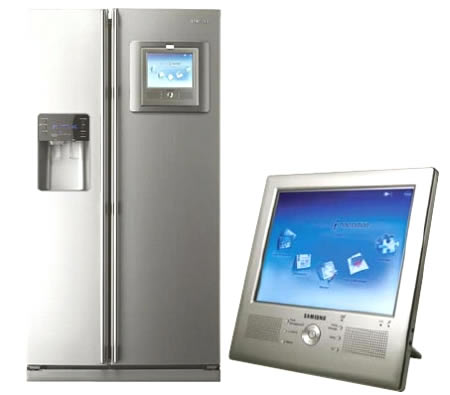 A few years ago several manufacturers started to bring smart whitegoods onto the Australian market, but since then the market has been relatively quiet.
At the turn of the millennium whitegoods were billed as a big growth area for technology, yet international success seems to have been lost in translation.
LG paved the way in the United States with its Internet fridge, and companies like Whirlpool and Electrolux are experiencing widespread international success with similar offerings.
However, conventional appliances make up the majority of whitegoods purchases and installations for Australian kitchens and laundries.
Electrolux has found success with the UK and US release of its Screen Fridge, which features a 15″ touch screen and pop-up keyboard, allowing broadband Internet access, real-time traffic reports and the ability to keep an up-to-date shopping list.
LG and Siemens have released their versions of LCD screen fridges. The LG TV refrigerator with remote control access and the Siemens CoolMedia fridge, which features a 15″ swivel screen, are finding a place in the international integrated kitchen.
The Siemens Serve@Home range of whitegoods - not yet available in Australia – has made substantial headway in the complete integration of kitchen appliances. Operating over an Internet protocol connection, Serve@Home whitegoods offer the owner complete control of the kitchen via a telephone, PDA or mobile.
For the local market, the company has introduced the liftMatic oven – an automatic, self-cleaning oven with a built-in lift and 26 fully automatic programs. Siemens is distributed in Australia by BSH Home Appliances.
Electrolux home products design director Lars Erikson says the integration trend is not at the forefront of the Australian kitchen market, but it will make an appearance.
"The main trend that challenges our industry is the blurring of boundaries in the home. Many people socialise in their kitchen. So how does this affect appliances? They have to fit the surroundings and be co-ordinated in appearance. People are tired of mixing and matching appliances.
"Two trends in people's lives are a lack of convenience and insufficient time. Products have to be easier to use, and in Australia this is very important in regard to freeing up time to spend on other things."
A team at the MIT Media Lab in Cambridge, Massachusetts, has developed Counter Intelligence – an augmented reality kitchen. By sensing the location of tools and ingredients, the temperature of surfaces and food, and the needs of the user, Counter Intelligence can provide information to co-ordinate and instruct users on the features of the kitchen.
The team designed and built five discrete, context-aware systems to monitor and inform the most commonly performed tasks in a residential kitchen: FridgeCam, RangeFinder, Augmented Cabinetry, HeatSink, and Virtual Recipe. Together they are designed to eliminate many sub-steps that can confuse or endanger users.
"Let's step back one hundred years into a kitchen of the 1890s. It is barely recognisable compared with today's hygienic, aesthetically pleasing centre of the home," says research assistant Joseph Kaye.
"Today, the kitchen counter is one of the most used portions of the kitchen. Workspace is invariably prime real estate in food preparation."
Through Virtual Recipe, Counter Intelligence displays the instructions on a wall or workspace, then directs the cook through a system of LEDs and virtual buttons.
"The kitchen is fully aware of a recipe – the sequence, the ingredients, possible substitutions," Joseph says.
"We're in the process of building it as a fully expandable system, enabling us to modify the user interface as we learn more."
Another feature is HeatSink, which projects coloured light into the stream of tap water to indicate its temperature – red for hot and blue for cold. HeatSink uses a simple solid-state circuit to produce various intensities of the two colours and display water temperature in the simplest way possible.
Also in the US, the Internet Home Alliance – a network of whitegoods manufacturers and technology developers consisting of Whirlpool, Hewlett-Packard, Panasonic, Microsoft and Procter and Gamble – has recently released a study into what is happening in kitchens now and what technology innovations consumers want most in future.
Conducted by research and consulting firm Zanthus, the Alliance's digital kitchen study was based on a survey that reached 602 home-owners between the ages of 25 and 64 who have broadband Internet and household incomes of more than $US35,000 ($A44,000) a year.
In a good sign for the future of home automation, respondents said a home control station is one of the most sought-after ideas on offer. Consumers want a home control station in their kitchen that allows them to manage their HVAC and security systems easily.
They requested a screen on which they can view the inside and outside temperature, adjust the thermostat on a touchpad and view live video of the front and back of the house. This functionality was equally appealing to households with and without children.
The most sought-after system is a digital calendar. The survey found that the primary kitchen user is also the primary schedule keeper, and a digital calendar is most preferred of the 22 concepts tested. Those surveyed reported wanting a calendar on a large screen that allows users to add appointments and post notes that everyone in the household can see and access, whether from the kitchen or via the Internet.
Other preferred systems are a recipe projection system, an energy-use monitoring and control system, a universal charging station and wireless Internet access.
Ultimately, the survey shows that the kitchen is the nerve centre of the house, with most families doing much more than cooking and eating there. It also suggests that most consumers are looking for functionality and control from their kitchens, rather than entertainment.
Most respondents showed little interest in watching movies or playing video games in the kitchen, but they do want a television there. One-third of home-owners do watch TV in the kitchen and 43% want to watch TV in their ideal kitchen. Fifty-one per cent of those planning to remodel their kitchens in the next year intend to include a television.
Laundry talk
The Internet Home Alliance has completed a research project on consumer responses to integrated laundry appliances.
The eight-week, real-world Laundry Time experiment conducted in three American homes showed that consumers found integrated laundry appliances to be viable and useful additions to an integrated home layout.
The experiment put a washer and dryer into a home automation installation and configured to notify the home-owner of the progress of wash/dry cycles by sending messages to their PCs, TVs and mobile phones.
Messages on laundry status were sent as pop-ups over a wireless router connected to a HP Media Centre PC, a wireless media centre extender and a phone with wireless Web access. The messages indicated the status of the cycle, a malfunction, an unbalanced load or whether the door was open.
"Although big in the United States, integrated laundries will not be a major trend in Australia but will make an appearance," says Electrolux home products design director Lars Erikson.
"Plus it has sparked further development in connecting kitchen appliances with the rest of the system."
A survey of participants after the test period showed that the most popular way of receiving a notification was through the TV, with mobile phones ranking the lowest. There was also interest in the addition of a program that would run periodic diagnostics on the appliances.