What's app-ening with iPhones?
As the number of iPhones continues to swell, installers can now leverage the device into their businesses and streamline their operations by adopting it as a multi-functional tool.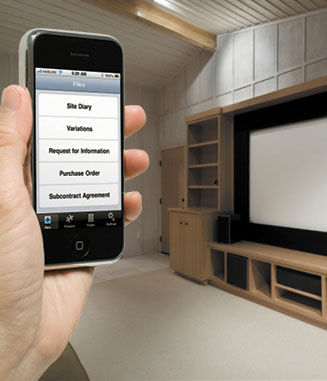 As someone who doesn't own an iPhone, I can't help but notice that owners of the so-called 'Jesus phone' insist on showing you what the ubiquitous device is capable of.
Generally speaking, I'm not interested. But I would be lying if I didn't believe the iPhone could play a useful role in a contractor's business, just in an application that many wouldn't otherwise consider.
In the home automation sector, several control system and multi-room audio component manufacturers have launched iPhone apps that interface with their lighting control and AV systems.
This is a nifty add-on for clients that have access to an iPhone, but the biggest benefit for tradies could be in the adoption of the iPhone as a multi purpose tool for their toolbox.
David Campbell is a high-end residential builder and Control4 dealer in Sydney. Over the last six months he has developed an iPhone app for tradies called, simply enough, the Tradie's App, which consists of five programs they use on a daily basis – site surveys, variations, request for information, purchase orders and subcontractor agreements.
Using a straightforward interface with drop-down menus, the app can document everything from onsite machinery and materials to safety concerns.
"I developed this because I saw a need for it in the market," David says. "The iPhone has become such an invaluable part of my business because it helps me save time and money, so it made sense to use it for other applications.
"On a site you'd rarely see a tradesman without a phone glued to their ear, so why shouldn't it be an all-in-one device?"
For David, staying up-to-date with construction projects is one of the greatest benefits of the iPhone.
"If there's a problem onsite that needs my attention, one of the team members takes a photo with their phone and sends it to me.
"Nine times out of ten I'll be able to solve the problem then and there, instead of dropping everything I'm doing and travelling to the site.
"Further, if I'm not onsite for any reason, through the Tradie's App I can still tell a client which tradesmen turned up and exactly what work was completed on any given day.
"It has removed the need for fax machines, telephone lines and internet connections as everything I need is in my pocket. And it saves my workers and sub contractors having to finish paperwork when they get back to the office or home."
Upon entering the information into the iPhone, the Tradie's App can then interface with a PC/Mac to produce uniform documentation that maintains an accurate account of a project's particulars.
"The best part is that the older guys have had no trouble with using it. In fact, they tend to understand the logic behind it a lot better than the younger guys."
But it's not just paperwork that the iPhone can assist with. Recently developed apps allow an iPhone to double as a spirit level, stud finder and
IP network scanner. It can replace tools that traditionally cost anywhere from $20 to $200.
But are they foolproof?
"No. It's strange that people have these ridiculously high expectations for what a $6 app can do. This just isn't realistic," David says.
"But, that being said, I would have to say that I have encountered about a 90% accuracy. However, just as you would when using a desktop PC, you should always check what you've done.
"Besides, if an app doesn't work, delete it. Simple."
David's business, David Campbell Builders (DCB), is practically the poster child for iPhones in the construction industry.
With the Oz Weather app, the team is able to check weather forecasts and better schedule resources and operations.
"When we have a concrete pouring project planned, for example, we regularly check the weather to make sure conditions are ideal and won't have an impact on the job."
Even ordering supplies onsite is simplified, he says. Using the Invoice2Go app, a DCB site manager can create a purchase order on their iPhone and email it directly to the supplier.
"Using Invoice2Go, there are times when I've done a quote for a client on the spot, emailed it through, and had it immediately approved."
In the first five weeks after its launch, the Tradie's App, which costs $52.99 and is available from the iTunes Store, has proven quite popular with builders in Australia, the United Arab Emirates, Canada and the US. Further, it is currently being adapted for the release of the new Apple iPad.
David says he also has plans for it to integrate with a business' accounting software.
So, are the construction sectors undergoing a iPhone revolution? Will more and more apps be developed for the iPhone in an effort to streamline business?
It app-ears so.