Victoria's best electricians and projects named at Excellence Awards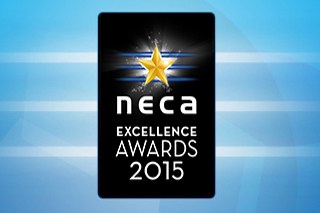 The best Victorian electrical and communications contractors were recognised at the annual electrical industry Excellence Awards hosted by peak Australian industry body the National Electrical and Communications Association (NECA).
Seventeen companies across ten categories received the top state award in front over 660 industry representatives including contractors, suppliers, educators and government representatives at the pinnacle showcase of the electrical and communications industry at Crown Palladium.
The winning projects in 2015 included electrical, lighting, and communications, industrial and commercial installations.
NECA Victoria chapter president John Cutler said the winning companies were chosen because of their commitment to excellence, significant engineering achievements and importantly their ability to integrate many different technologies into the one project.
"The electrical and communications contracting firms that have won awards are simply outstanding for what they have achieved on each project," Mr Cutler said.
"This year NECA received an even wider variety of nominations. It is very encouraging to see that Victorian electricians and electrical businesses are leading the country in everything from power plants, metro trains, shrine of remembrance through to energy efficiency and the wiring of smart homes.
"The judging panel was privileged to view a wide variety of high quality projects and as always NECA members have contributed positively to some of the biggest construction jobs in this state."
The winning companies and their projects are listed below:
Category – Domestic Residence
A single residence project in the domestic sector where the applicant's contract value is less than $1 million.
Winner: Argus Technologies Solutions
Project: Private Residence Berwick
Why: Argus Technologies provided the owner of the house a complete package of quality workmanship from design, supply and installation of comprehensive electrical, communication and automation systems.  Allowing the owner to indulge their love of entertainment on a grand scale while keeping it user friendly.  The project has tested their resources and set challenges enabling Argus Technologies Solution to provide state of the art technological solutions exceeding their client's expectations.
Category – Small Contracting Business
A small contractor, employing less than 10 technical employees, demonstrating a wide range of skills and may be a company or project based.
Winner: Elecorp Group
Project: Mitcham Private Hospital – Mental Health Unit Victoria Court
Elecorp Group designed, constructed and completed a state of the art modular mental health facility for Mitcham Private Hospital.  The project was completed in 16 weeks and fully operational.  The delivery of a modular 20 room wing to a fully functioning hospital is ground-breaking. Successful delivery of the project ensured the hospital itself was able to conduct business as usual and operate into the new modular wing within 16 weeks.
Category – Environment and Energy Efficiency
A project where the design, product selection, lighting, processes or technologies have created an energy efficient or sustainable installation and/or made a significant contribution to preservation of a site's natural environment.
Winner: Floyd Industries
Project: Cogeneration Plan, Wangaratta Aquatic Centre
Why: Delivering this highly technical project was a major accomplishment for a regionally based company, displaying their capacity and expertise to develop a full understanding of the project, and utilise their strong relationships to deliver. Neil Maisey from Optimal remarked "While this project was Floyd Industries first time implementing a Capstone Micro Turbine project Floyd Industries delivered the complete turnkey Co-generation Plant and associated works; integration, commissioning and utilities connections in only 6 weeks. This is unprecedented".
Category – Lighting
A commercial, industrial, residential, hospitality, retail or sports project of any value where the lighting achieves a high level of visual, technical and aesthetic excellence.
Winner: Programmed Electrical Technologies
Project: Marais Boutique
Why: The Marais Boutique Project was Programmed's first Boutique Retail project with a focal point centred on lighting.  The biggest accomplishment was completing the project in time for Marias Boutique highly publicised grand opening which meant they were working with coordinating a complex design, requiring intricate detailing in a sensitive environment within a compressed timeframe. The final stages of the project required close coordination between architectural furniture installations, hand crafted artistic show pieces, commissioning teams and Programmed as all pushed to ensure the Marais Boutique opening was a success.
Category – Industrial Small Project
An industrial project which may include, but is not limited to, undertakings of a civil, mining, high voltage, manufacturing or process nature where the contract value is less than $1 million.
Winner: Nilsen (Vic) Pty Ltd
Project: Mt Martha Solar Dryer Facilities
Why: This state-of-the-art solar dryer plant was constructed to provide a reliable means of drying sludge independent of weather conditions and reduce the load on the existing sludge drying pans."Above all I am extremely proud of the tireless commitment of Nilsen staff to meeting our clients' needs and providing excellent service on all jobs, large or small. This award particularly acknowledges Nilsen's leadership within sewage and waste water treatment – an industry that is gaining ever more importance as our society embraces environmental sustainability. The most satisfying element of this win is that our people's excellence has been recognized by their peers," said Rob Selymesi, General Manager of Nilsen (Vic) Pty Ltd.
Category – Industrial Medium Project
An industrial project which may include, but not limited to, undertakings of a civil, mining, high voltage, manufacturing or process nature where the contract value is greater than $1 million and less than $8 million.
Winner: Gordyn & Palmer
Project: Mountain View Quarries
Why: Gordyn & Palmer designed and constructed a new 600tph crushing and processing plant to replace an existing plant adjacent to the site.  "Our biggest accomplishment was bringing the latest technology in motor control to the forefront of the quarry industry while still maintaining a simple and intuitive user interface to allow operators to run the plant to its maximum potential. The extensive electrical and software development completed in-house have resulted in a completely integrated system which is robust enough for the harsh environment it operates in and will serve the client for many years to come" said Terry Hickey, Managing Director
Category – Voice / Data
A voice/data communications projects of any contract value.
Winner: Programmed Electrical Technologies
Project: Medibank Thrive Audio Visual Services
Why: Programmed Electrical Technologies delivered the audio visual services for the Thrive Project for Medibank Private.  Programmed's works included the detailed engineering, equipment supply, delivery, installation, testing and commissioning of the audio visual systems throughout the Medibank headquarters.  "Due to the small commissioning window available, Programmed implemented a pre commissioning programme that ensured that all equipment was ready to run at the time it was installed in the customer premises. The approach taken ensured that on site commissioning activities occurred as efficiently as possible and reduced the onsite testing and commissioning period by up to 60%," said project manager, Cameron Hewitt.
Category – Commercial Small Project
A commercial project where the applicant's contract value is less than $1 million.
Winner: Argus Technologies
Project: World of Style by Porter Davis
Why: The conversion of an old auto workshop saw the building stripped back to its raw industrial base to recreate it into a new modern showroom to hero its heritage elements.  The conversion was no small feat, with the end result belying the huge task that the team faced on day one with a dilapidated old auto workshop. At the completion of this project it was a pleasure to stand back and see what was achieved by the team, and how much the business owners enjoy the technology aspects of the new World of Style showroom.
Category – Commercial Medium Project
A commercial project where the applicant's contract value is greater than $1 million and less than $8 million.
Winner: DESA Australia
Project: Digital Realty Project
Why: A blend of design and construct and engineer designed methods were used to fit out this new state of the art Data Centre.  "In undertaking a project of this kind, with due consideration given to timing and deliverables, we knew traditional approaches would not be suitable. In advance of project commencement we committed staff to full time design and modeling conditions to identify potential roadblocks or opportunities to improve design. This gave us complete confidence that once our team walked onto site we had the desire and ability to deliver an outstanding result for all concerned," said project group manager, Michael Richardson
Category – Commercial Large Project
A commercial project where the applicant's contract value is greater than $8 million.
Winner: Stowe Australia
Project: Margaret Court Arena
Why: The project involved the total redevelopment of the exiting outdoor Margaret Court Arena, which would transform it into an independent and fully functioning multi use arena. This would include1500 additional seats to the existing bowl seating.  An operable roof to allow the stadium to be used as both an indoor and outdoor stadium.  A fully enclosed foyer and concourse areas that would incorporate 10 new food and beverage outlets, and upgrades to the Rod Laver Arena concourse and patron amenities, including a series of operable walls between the two venues to enable the concourse areas to be used in an combined mode.  The greatest accomplishment was delivering the project within a fully functioning precinct, with existing and new infrastructure to modify, maintain, install and commission without disruption whilst the client maintained operations at all stages of the redevelopment.