Trina Solar launches Vertex S+ dual-glass aesthetic black solar panel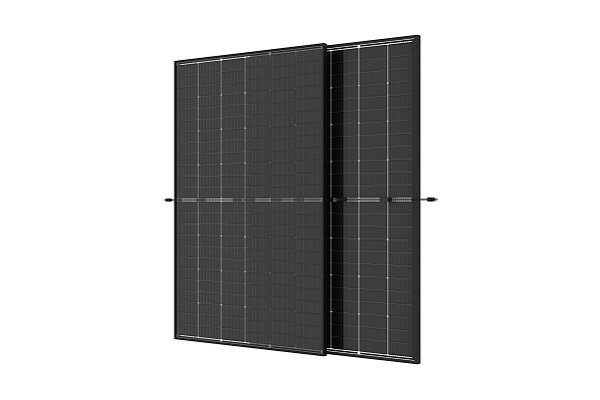 Trina Solar has just launched the latest addition to their market-leading Vertex S+ panel range, NEG9RC.27, offering the next generation of technologically advanced solar panels for residential and commercial projects.
Based on n-type i-TOPCon technology, NEG9RC.27 is a lightweight smaller 1.6+1.6mm dual-glass solar panel with increased power production for residential and commercial applications. Inheriting Trina Solar's award-winning aesthetic black design and measuring just 1762mm x 1134mm in size, the compact, innovative and design-inspired Vertex S+ solar panel range delivers 445W maximum power output with an efficiency of 22.3%.
"Transparent panels are suitable for more PV applications especially when light transmission is appreciated, such as covered al fresco dining areas that require sunlight can benefit from the latest addition to the Vertex S+ range. The possibilities are endless," Trina Solar's head of Australia, New Zealand and the Pacific Islands Edison Zhou says.
Trina Solar's NEG9RC.27 is a response to the demand for improved energy yields and visually appealing roof aesthetics, while the increasing affordability of dual-glass panels and solar incentives are also growing the solar power market.
Trina Solar's panels are easily integrated, being designed for compatibility with existing mainstream inverters and diverse mounting systems. Being just 21kg in weight, the NEG9RC.27 is a viable solution for low-load capacity roofs, while also reducing installation time and costs with fewer trades required on site.
The base layer of P-type cells is first coated with boron and then coated with phosphorus to create the cell's top layer. P-type modules have a negative charge at the cell's top layers and electricity flows from the top of the cell to the bottom. Conversely, the n-type cell's base layer is first coated with phosphorus and then the top layer is coated with boron. Electricity flows from the bottom to the top in n-type cells.
This difference means n-type cells are immune to the boron-oxygen defects experienced in P-type cells. This immunity means n-type modules enjoy a longer lifespan and less light-induced degradation than P-type panels. N-type panels also deliver a higher conversion efficiency than P-type panels. The higher conversion efficiency is due to the panels having a greater sensitivity to long wavelength light, which allows for better energy generation in low light.
Importantly, the panel's small, sleek 1.6 + 1.6mm dual-glass design is visually appealing to homeowners and commercial property managers.
The average solar system size for Australian households is now more than 8kW whereas in the past households typically installed a 6.6kW system, due to it being the system size that maximises government rebates available via the small-scale technology certificates (STC) scheme. Nevertheless, the new Vertex S+ panel is the ideal choice for achieving a 6.6kW system or 8kW system and even reduces a household's dependence on the grid.
Incorporating a bifacial feature with transparent encapsulant makes it perfect for specific applications such as carports, public spaces and agricultural projects, with additional power gain from the back side of the module, the NEG9RC.27 panels' ultra-low degradation rates, longer 25-year product warranty and 30-year power warranty, giving greater peace of mind to customers around their homes and immediately reduced power bills.
Further boosting installer confidence, the NEG9RC.27 panel has increased crack and scratch resistance. The Vertex S+ dual-glass panel meets IEC fire ratings (Class A+C) and Australia's harsh environment performance requirements, ensuring their compatibility in both hot and cold environments, and has passed 35mm hail tests.
ADVERTISEMENT

ADVERTISEMENT