Treotham releases i.Sense CF.D sensors for contactless monitoring of igus cables in e-chains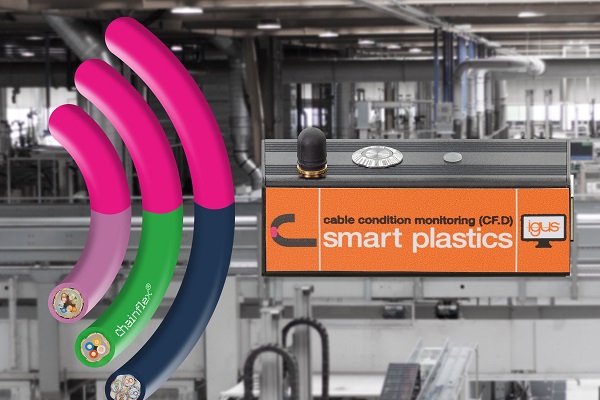 Treotham has released i.Sense CF.D sensors, made for high-frequency technology to detect defects in bus and data cables, preventing expensive system downtimes.
The new solution checks the electrical condition of chainflex cables in e-chain systems – without contact and without intervention in the existing harnessing. This allows real-time monitoring without any extra cores and, in combination with the new i.Cee: plus II evaluation module, allows even more efficient predictive maintenance for protection against expensive system failures.
It facilitates the entry into predictive maintenance of chainflex bus and data cables in igus e-chain systems. The smart system consists of two sensor units clipped onto the cable before and after the chainflex cable to be monitored. They are small enough to fit into the distribution box on the moving end side and into the control cabinet on the fixed end side. During operation, the sensors continuously check the cables' transmission properties.
Additionally, it uses high-frequency technology that works without additional sacrificial cores and without contacting existing cores.
"This technology allows the sensors to reliably measure even the smallest transmission deteriorations in cables and connectors," igus head of the smart plastics business units Richard Habering says.
The new generation of CF.D sensors is compatible with most bus and data cables in the igus chainflex cable range.
"Condition monitoring enables machinery and equipment users to detect and replace cables approaching their wear limit at an early stage, significantly enhancing plant safety," Richard adds.
ADVERTISEMENT

ADVERTISEMENT