Toyota preparing to launch new HiAce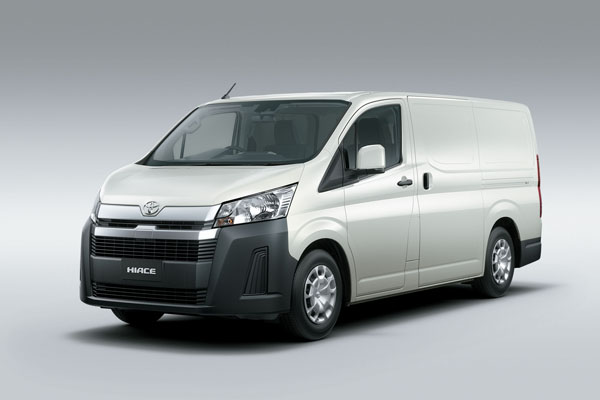 Toyota Australia is preparing to launch its sixth-generation HiAce mid-size van, following its unveiling recently in Japan.
The lifecycle of light-commercial vans typically stretches much further than passenger vehicles, and this is the first fully redesigned HiAce in some 15 years, bringing with it claims of major improvements in key areas such as safety, performance, ride and handling, practicability and cabin comfort.
A more rigid structure and new driver-assist technology such as autonomous emergency braking and pedestrian and cyclist detection have been developed, leading Toyota to expect a maximum five-star safety rating from the Australasian New Car Assessment Program (ANCAP) – up from the four stars it managed when last tested in 2011.
Full specifications were still to be revealed ahead of the local launch, but two new powertrains will be offered – a 2.8L four-cylinder turbo-diesel and a 3.5L normally aspirated petrol engine, both with either a six-speed manual or automatic transmission. The current HiAce offers a 100kW/300Nm 3L diesel and 118kW/243Nm 2.7L petrol.
Maximum braked towing capacity increases 500kg to 1,900kg on most models, while the dynamic improvements stem from structural modifications and revised suspension, the latter switching from a double wishbone set-up to MacPherson struts at the front. It sticks with leaf springs at the rear but with an overhaul that aims to improve ride, handling and refinement.
Other detail changes brought with the new HiAce generation include improved cabin access via redesigned doors and wider steps, while visibility is said to be better with a lower 'beltline' and larger expanses of glass on the front doors.
The range will continue with two-seater vans in long-wheelbase (LWB) and super-long wheelbase (SLWB) format, and as a five-seater LWB crew van. Load capacity is listed at 6.2m3 for the LWB and 9.3m3 for the SLWB, while Toyota says longer wheelbases and revised packaging have increased internal width by 215mm and height by 5mm – without altering overall exterior width.