Thorn Lighting Clan urban lighting
A new range of urban lighting that adds harmony to the city has been introduced by Thorn.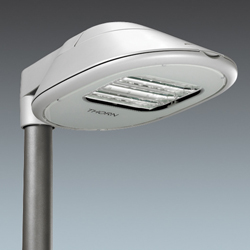 A virtually endless variety of lantern, bracket and column configurations are available to suit all the major architectural influences. The product line includes two lantern designs and three bracket arms for single, twin, wall and side mounting on 3m-6m high columns. The lanterns are available with two dedicated optics – street, and flood – employing conventional lamps (HIT-CE/TC-TEL/CPO) or LEDs (3000lm/5000lm).
Clan perfectly complements other Thorn ranges, such as Plurio and Alumet. Whatever the style or effect that is called for, whether the intention is to draw attention or create a presence, Clan is an essential element in lighting spaces whilst maintaining the feel and appearance of a single, coherently designed environment.
Not only does the high performance optic maximise uniformity and spacings between lighting points, but cut-off is precise, thus minimising glare, uplight and backlight.
Made from tough LM6 Marine grade die-cast aluminium, finished in silver grey and sealed to IP66, the Clan range is a durable and versatile lighting tool.
ADVERTISEMENT

ADVERTISEMENT