The sparkie gap: can immigrant electricians fill the skill shortage?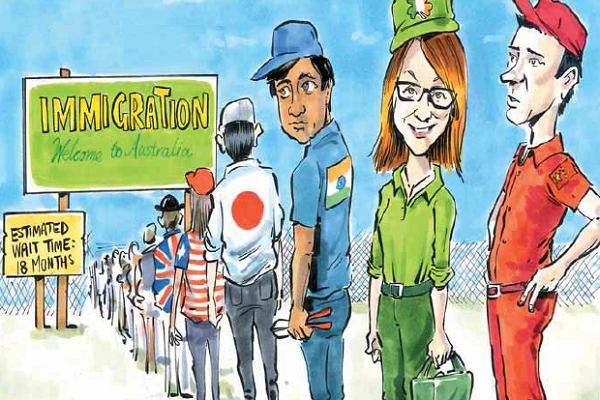 With skills shortages in the electrical industry, employers are looking to immigrant sparkies. But it's not just a case of strapping on a tool belt and getting to work, as Anna Hayes discovers.
Australia is a favoured destination for people on working holidays or skilled visas, and worksites are likely to host Irish or English electricians toiling alongside the locals.
However, joining the throng is not straightforward. For foreign sparkies the road to becoming certified in Australia is a long one. They must have their skills verified and, in many cases, must undertake extra assessment or classroom learning.
However, those from New Zealand work with largely the same set of Standards. And sparkies from the United Kingdom or Ireland have been governed by European Standards, which are based on the IEC Standards that Australia uses. But for those from further afield, it becomes ever more difficult.
James Tinslay is a former head of NECA, industry advisor and Electrical Connection contributor. He believes that hiring immigrant workers is viable, and he knows of several employers that have taken on loyal employees. However, it is not a straightforward process.
"They have a very good training system in the UK, but I've heard stories of it being quite hard once they get here," James says.
Sparkies seeking work in Australia first need to go through the Off shore Technical Skills Record (OTSR) and a registered training organisation (RTO), which assesses them and works out the skills gap.
"Once they get the skills gap they must do the classroom theory, and this is expensive. I heard of somebody who, after initial assessment, paid about $1,500 for assessment and failed part of it.
"The guys who come here are expected to know everything that our people know when they go through the capstone."
James says the capstone has not been a great success, citing cost as one of the big deterrents. He also believes that practical experience is an issue.
In some cases, sparkies with many years of experience can't work as electricians because they don't have an Australian licence.
"They generally work as a trade assistant, which is relatively low paid and it's little better than being a labourer in a lot of companies. You're almost treated like an apprentice on the job – lift, carry and you may not even get the skills."
It comes down to box ticking, he says, but there are bigger issues in the shape of financial constraints. Despite the similarities between training systems, the Australian regime insists that immigrants go through the skills gap process.
NECA Western Australia administration manager Peta O'Day says although it is difficult to quantify the amount of on the- job training required, it is typically 800 to 1,000 hours of work. Electricians have the added task of finding employers to support them in the certification process.
In WA, sparkies receive a provisional licence from Energy Safety once they satisfied the criteria, but the process remains tedious for the applicant.
"We've had a lot of men crying at the counter, quite literally," Peta says.
"They're electricians, they've paid thousands of dollars to have their qualification recognised, they're getting paid $25 an hour and came to Australia with a family.
"They didn't know what was involved in getting their licence here, and they've lost time on training. For some of them it can take more than 18 months and
they're struggling financially."
Unfortunately, there is nothing an electrician can do before arriving in Australia.
Peta says that there is a certain lack of knowledge among those coming here, and it is not as simple as doing a two-week course and getting the go-ahead to work as an electrician.
As difficult as it is for Europeans, Americans face a much more uphill battle, given the differences in US Standards and wiring systems.
James says they almost have to start from scratch. Although they have the schooling and principles, their work experience is based on a 120V system in the US where steel conduit is still used a lot.
"Although we've had many people come from America, I would be surprised if that was a large percentage."
It is also difficult for asylum seekers. The Asylum Seeker Resource Centre (ASRC) is trying to help people enter trades similar to what they did before, but it is a long and arduous process.
Abiola Ajetomobi of the ASRC says there are challenges for asylum seekers and refugees in relation to bridging the skills gap, as well as issues relating to English language proficiency and inequity when it comes to re-skilling.
"Due to a lack of funding, not all people seeking asylum have access to TAFE or apprenticeship opportunities. For many, their qualifications and trade are part of
their identity, and not having access to career recovery erodes their confidence."
There is also the cost and loss of benefits when taking up training or an apprenticeship. Losing their Status Resolution Support Services payments has a negative effect on those seeking training or education.
Abiola says apprenticeships and traineeships are ideal for earning a living while learning a trade.
"Employers who engage apprentices receive a commonwealth government subsidy, except when an apprentice is seeking asylum.
"Some employers see more benefits in giving a mature-age or experienced tradesperson an apprenticeship rather than receiving the subsidy – but not many."
James says that even assessing an asylum seeker's skills may be practically impossible, as the country of origin may not have government or private agencies that off er such training.
"It's hard because you've got to find out about a training system that is probably not documented in English. I doubt whether Iran or Iraq would have anything in English for an RTO to look at, or for the regulators who are the licensing authority in each state.
"Just trying to get that information would be hard, and without that they almost have to start from scratch and do an apprenticeship."
Electrical work makes it more difficult. Unlike carpentry, the training was more intense and there is less scope to simply learn on the job.
There seems to be no end to the  demand for sparkies, yet it is difficult to get people into the trade, something partly attributed to parents' aspirations for their kids to go to university – even if it isn't the right path for them.