Take your breath away: silicosis in the industry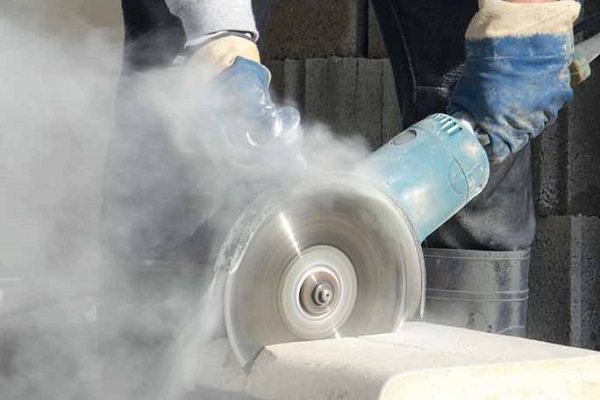 The rise in popularity of stone-type benchtops and other surfaces has led to a return of the potentially lethal silicosis among workers. Paul Skelton reports.
Late in 2018, the Queensland Government did an extensive audit of the manufacturing stone industry to check on the potentially lethal disease silicosis.
Silicosis was fairly common among Australian construction and demolition workers in the 1940s and 1950s but largely disappeared in the years since.
After the audit, 799 stonemasons were referred for lung testing, at a cost of $2,000 each. This revealed that 98 workers had the disease. It was terminal for 15 workers, the youngest being a 23-year-old with less than six years in the industry.
So, what is silicosis and why has it returned after several decades?
Thoracic and transplant physician Professor Dan Chambers is a spokesman for Lung Foundation Australia.
"Historically, silicosis was a relatively common disease, having been recognised for hundreds or even thousands of years in workers exposed to respirable crystalline silica (RCS)," he says.
"The incidence of silicosis in Australia has dramatically increased in recent times. Workers exposed to dust during the dry cutting of manufactured stone, and workers in the mining and tunnelling industries, can experience high levels of exposure to RCS.
"People in these occupations seem to be at greatest risk of developing silicosis."
Cancer Council Australia (CCA) says a 2011 survey showed that 587,000 Australian workers were exposed to silica dust, and an estimated 5,758 will develop lung cancer over the course of their life.
The occupations with the greatest exposure include miners, farmers, engineers and construction workers. Specifically, you are at the highest risk if your work involves:
breaking, crushing, grinding or milling material containing silica dust;
sand blasting or casting;
paving, surfacing or cement finishing;
bricklaying;
demolition work;
road construction;
stonemasonry;
mineral ore-treating processes; and,
manufacturing glass, ceramics, brick, concrete, tile, metals or machinery.
Professor Tim Driscoll is chairman of the CCA occupational and environmental cancer committee.
"It is estimated that 600,000 Australian workers are exposed to silica dust at work each year," he says.
"Silicosis is the fibrosis, or scarring, of lung tissue caused by breathing silica. It means the lungs can't work properly.
"Crystalline silica is found in stone, rock, sand, gravel and clay, as well as products such as bricks, tiles, concrete, artificial and natural stone benchtops and some plastic materials.
"When these materials are cut or polished the silica is released as a fine dust that can be 100 times smaller than a grain of sand.
"Affected people can't get enough oxygen into the body and become short of breath. Silicosis can also put a strain on the heart because it has to work harder pumping blood to the lungs.
"Workers exposed to substantial amounts of silica should have regular health checks, which should continue for years after exposure ceases.
"There is also some evidence that people with silicosis are more likely to develop auto-immune conditions that can result in damage to the skin, kidneys and some other organs."
In the early stages of silicosis there may be no symptoms.
"The disease is usually progressive even after exposure stops, and symptoms might only develop many years later," Tim says.
"However, people with very high exposures can be affected quickly (within months or a few years) and develop severe conditions. In that case, sufferers can die from respiratory failure or heart disease.
"Another concern is that silica exposure (with or without silicosis) is a risk factor for lung cancer. It is estimated that about 200 people develop lung cancer each year in Australia as a result of past exposure to silica dust at work."
Such is the insidious nature of silicosis that it can lead to a wide range of medical issues. Safe Work Australia outlines the following risks:
chronic bronchitis;
emphysema;
acute silicosis – can develop after a short exposure to very high levels of silica dust, within a few weeks or years, and causes severe inflammation and an outpouring of protein into the lung;
accelerated silicosis – can develop after three to 10 years of exposure to moderate to high levels of silica dust, causing inflammation, protein in the lung and scarring of the lung (fibrotic nodules);
chronic silicosis – can develop after long-term exposure to lower levels of silica dust, causing fibrotic nodules and shortness of breath – can include progressive massive fibrosis where the fibrotic nodules in the lung aggregate;
lung cancer;
kidney damage; or,
scleroderma – a disease of the connective tissue of the body resulting in the formation of scar tissue in the skin, joints and other body parts.
There is no cure for silicosis, apart from a lung transplant.
"Silica is a compound of the elements silicon and oxygen – the two most abundant in the earth's crust," Dan says.
"The most common form of silica is quartz. Silica dust is generated whenever rock or sand is cut, crushed or otherwise treated. However, silica is not harmful unless inhaled. The key is to ensure it is not inhaled."
Tim says that minimising the amount of silica in the air is crucial.
"Multiple forms of control measures will usually be required to adequately protect workers. These include using water and ventilation to reduce the amount of dust in the air, and using personal protective equipment such as respirators to limit the amount of dust breathed in.
"However, proper protection needs more than wearing a dust mask. Workplaces should develop written exposure control plans based on the concepts of risk reduction, and control measures should be implemented in accordance with the hierarchy of controls."
Although governments are concentrating on the stonemasonry industry – specifically banning dry cutting techniques – new legislation in Victoria and Queensland implicates all processes and products that can generate RCS. This includes plasterboard and plaster-based products.
The manufacturer USG Boral has recently announced the development of water-resistant plasterboard and new jointing compounds.
Tim Harrington is the company's category manager for compounds.
"Plaster-based products contain very small amounts of quartz (crystalline silica)," he says.
"Finished plasterboard and jointing compounds typically contain less than 0.1% RCS."
The Safe Work Australia permissible exposure limit for RCS is 100ug/m3 over an eight-hour working day. An employee's level of risk is a combination of the type of material being handled and the type of activity. That is why manufactured stone with high quartz content is under the spotlight. When the material is dry cut at high speed it produces RCS above the workplace exposure limit.
"The onsite preparation and installation of plasterboard does not exceed the permissible workplace exposure," Tim says.
In the past few years, the construction industry has adopted numerous safety practices to minimise exposure to airborne hazards, including vacuum-assisted sanding tools and dust masks with greater protection against particulates.
Respirable dust is generated in workplaces when jointed plasterboard walls and ceilings are sanded using hand or mechanical sanders.
Sheetrock Dust Control from USG Boral limits the pluming of sanded compound dust through air spaces. The product technology produces dust particles that fall directly to the wall/floor junction and react better to the vacuum of mechanical sanders.
"Only very small (<5μm) crystals are able to stay airborne long enough to be inhaled, so particles larger than this pose no threat," Dan Chambers says.
"Worksafe Australia has published excellent guidelines that outline how to avoid silica exposure.
"To keep workers safe it recommends wet cutting methods to dampen dust, excellent ventilation and/or exhausting of harmful dust, and appropriate respiratory protection.
"The products likely to generate a potentially harmful dust do so because of a high silica content or the fine silica particles generated. If avoiding working with such materials is not possible then the measures mentioned above are crucial.
"Many workers with early silicosis will have no or few symptoms, which is why at-risk workers should be regularly screened for the disease using breathing tests and chest x-rays.
"The symptoms of silicosis are breathlessness on exertion, coughing and sometimes chest tightness or pain. However, these can be caused by other conditions (for example, asthma or cigarette smoking), so it's important for workers to be checked out as part of the screening programs under way in Queensland and Victoria or through a GP."
Class action
In December 2017 Slater and Gordon Lawyers announced a potential class action on behalf of several stonemasons.
These workers had been diagnosed with acute silicosis and other respiratory illnesses allegedly arising from the cutting of engineered stone made from crystalline silica.
The law firm launched a national silicosis register to support people exposed to the harmful dust.
Like the firm's asbestos register, the silicosis version allows workers to register potential exposure and help them gain access to medical and financial support.
It also aims to collect data and extend the knowledge of exposures that lead to the disease.
Slater and Gordon dust diseases lawyer Claire Setches says workers and their families may be entitled to compensation through superannuation, insurance policies and worker compensation schemes.
"Unfortunately, there is little data on the number of people exposed to the dust," she says.
"We are seeing exposure to dangerous amounts of crystalline silica from the use of power tools to cut, grind and drill into artificial stone for bathroom and kitchen benchtops.
"We need to emphasise that damage can be done to the lungs before any symptoms are obvious."
In May 2019 the Australian Engineered Stone Advisory Group (AESAG), established by suppliers of engineered quartz surfaces, issued a response to the potential class action from Slater and Gordon.
AESAG members include Caesarstone Australia, Quantum Quartz, Smartstone Australia, CDK and Cosentino Australia.
The group said manufacturers and suppliers were not the employers of those who purchased the products, or of workers diagnosed with silicosis.
"Our members have been very active in educating our customers on safe work practices for more than a decade.
"In addition, we are developing an accreditation program and new safety education initiatives to further safeguard our industry.
"A safe working environment for stonemasons is the first priority for responsible manufacturers and suppliers concerned about the incidence of silicosis diagnosed among workers employed by our customers.
"Leading manufacturers and suppliers have long provided customers with comprehensive guidelines on safe handling and cutting of our products and have formed AESAG to initiate further safety initiatives.
"Each member company provides customers who purchase and cut our products with comprehensive guidelines on safe cutting.
"In addition, AESAG is developing an accreditation program for introduction this year to ensure workplaces that we supply are fully compliant with health and safety regulations. We are also working with governments in Queensland and NSW on their currentre views of workplace regulations relating to silicosis.
"AESAG is confident silicosis can be successfully addressed through this cooperative approach because engineered quartz surfaces are perfectly safe when cut according to current workplace regulations and the recommended safety standards."
To register your exposure to crystalline silica with Slater and Gordon, visit www.slatergordon.com.au/silicaexposure-registration-form