Staying current: RCD changes for Australian electricians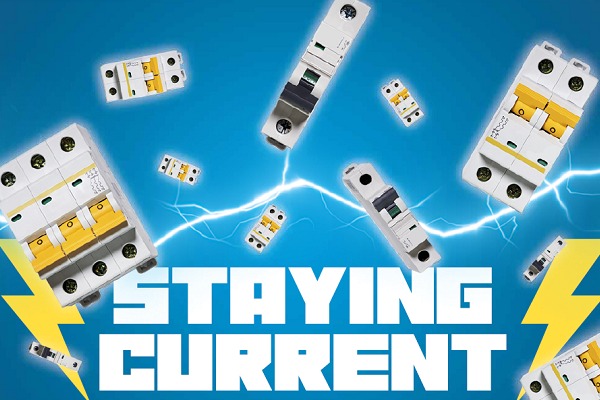 After 20-plus years, Standards Australia has implemented an amendment around RCDs. Sean Carroll finds out what has changed and why.
Type AC residual current devices (RCDs) have had a fair innings. For over two decades, they have served Australian homes, providing protection against electric faults and fire by detecting residual currents with a sinusoidal alternating current waveshape.
But on a trip to Lord's Cricket Ground in London a few years ago, I learned that even the best of innings has to end as Father Time remains undefeated.
Well, maybe I'm exaggerating a bit. Type AC RCDs have been very effective but Amendment 2 of AS/NZS 3000:2018 Cl 2.6.2.2.2 goes to the next level now requiring all RCDs to detect more than just alternating current. The new change in the standard also detects residual pulsating direct current.
With the proliferation of smart homes and recent renovation boom, a lot of residential properties are becoming more 'connected', increasing the complexity of appliances using power going into buildings and as a result, needing a higher level of protection.
The Amendment comes as there has been an increase in Earth faults with DC waveforms in recent years. These changes will come into effect after 30 April 2023 and the Australian market is in the middle of this transition.
"Some of the reasons behind the change is that Type AC RCDs, typically designed to detect residual current leakage currents, aren't able to detect leakage currents coming from more advanced technologies and appliances," NHP product manager (distribution systems & protection) Jamie Goddard explains.
"As technology becomes more complex, properties are capable of producing non-sinusoidal leakage currents, generating pulsating DC residual currents or slowly rising, slowly falling DC residual currents and halfway residual currents. Because of this, we need to improve the level of protection moving forward, transitioning from the minimum velocity Type AC to Type A and minimum."
Some of the advanced technologies that are requiring this additional protection include LED lighting, variable-speed drives found in appliances like, washing machines, dishwashers and tumble dryers.
"The increased adoption of electronics, renewables and emerging technologies in the Australian market means that there is a greater impact due to DC waveforms on the AC supply," Clipsal by Schneider Electric operational offer manager – FD residential home & distribution, global operations Vineet Chaudhary says.
White goods like dishwashers or washing machines used to be 'dumb' (not smart) but now, they have drives built into them.
The new requirements place Australia in line with New Zealand, a country that has mandated Type A RCDs as the minimum for many years.
"After 30 April 2023, Type AC RCDs will no longer be permitted to be sold or installed in Australia, so the local market needs to complete the necessary product transition this year," ABB product marketing manager – energy distribution, Shun Mizuta says.
"The transition to Type A is not retrospective so existing installation will not be affected. Type AC RCDs are typically the same physical size as the equivalent Type A devices so for installations, there will be no change. The main purpose here is customer safety."
Shun adds that there are no physical installation requirements for RCBOs so it shouldn't impact the electrician on the tools in a major way. The new RCDs actually simplify the process, making it so that only one style is required for both applications.
Jamie says that NHP has already transitioned the majority RCDs, to ensure that this is complete before the Amendment is in place: "Having only 24 months to transition is a pretty tight timeframe, especially considering the COVID market," he says.
"Additionally, there's the chip shortage that we all know about, so you'd need to prepare in advance. Luckily for NHP, we started this transition 12-24 months prior because we could see the need for change in legislation. But the next little while it about not getting caught out and being left with stock that nobody can use."
Jamie adds that the Victorian Tenancy Act from 29th March 2023 will now make it mandatory to have RCD protection, similar to some other states across the country. This is one of the reasons NHP began transitioning its stock before the Standard was updated.
"Many manufacturers, including us, have simple solutions where you can take out a single-pole circuit breaker and replace it with a single-phase RCBO, an RCD," Jamie explains.
"With three-phase, it was typically a lot harder. Because of this, NHP just launched a three-pole RCBO that fits into the space of 3P circuit breaker without having to worry about finding any extra space in the switchboard. Typically, these three-phase solutions were five or six-poles, making it difficult to retrofit."
Vineet says that all Clipsal-branded Resi MAX SLIM RCBOs & MAX9 RCDs/RCBOs along with Schneider Electric-branded Acti9 RCDs/RCBOs are already Type A: "As such, they offer electricians the peace of mind that they are not only compliant to latest standards but that they are also helping to make Australian homes safer."
ABB has also transitioned its stock and is supporting electricians moving from Type AC RCDs to Type A, or better, across its product range.
Moving forward, it's all about education. Letting the electrical industry know of these changes, what needs to happen, how they can change with the standards and as Jamie says, not taking shortcuts, ensuring the appropriate products are being specified for the job.
Building off this recent amendment, Shun believes that we'll likely see further developments in Arc Fault Detection Devices (AFDDs), building on the push for public safety: "The safety regulators and Standards Australia regularly review the international trends to ensure Australia is leading or matching the global safety standards."
But don't wait for Father Time to come to knock the bails off the stumps at Lord's Cricket Ground, electricians can get a jump on the changes. With manufacturers already stocking the appropriate solutions, there's no need to wait until the mandates in May 2023 and electricians can begin using Type A RCDs now and be future-ready.