Standards Australia releases Technical Specification for hybrid photoluminescent exit signs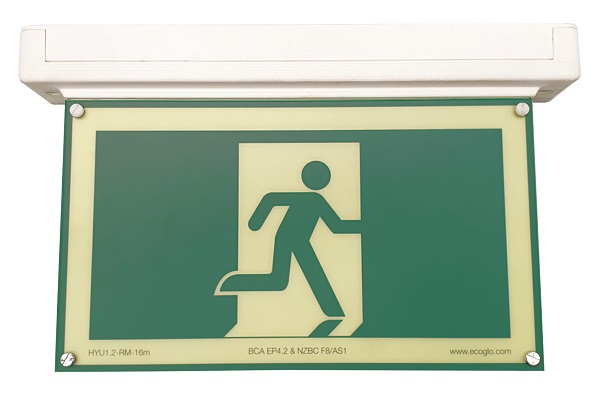 Standards Australia has released a Technical Specification outlining the performance requirements for Hybrid Photoluminescent Exit Signage – delivering an important practical guide to installers and operators while helping to bring this upcoming technology to the mainstream.
Photoluminescent (PL) Exit Signage is designed to supersede traditional exit signage, which typically features an electric light inside an opaque, box-style housing, supported by a back-up battery in case of loss of electricity.
Facility managers, in particular, have been quick to embrace PL signage technologies in order to avoid time-consuming and costly battery checks and replacements, and to equip buildings with enhanced signage reliability.
PL Exit Signage is popular in many of the most tightly regulated jurisdictions in the world, including USA (under the terms of UL 924) and Canada (CAN/ULC-S572).
Similarly, in Australia PL Exit Signage has been permitted for almost a decade under the provisions of the National Construction Code (NCC), as defined in EP4.2 of NCC Volume 1.
In terms of application, NCC Specification E4.8 provides a deemed-to-satisfy pathway for installers seeking to meet the requirements of EP4.2.
The new Technical Specification, SA TS 5367:2021 Photoluminescent exit signage – Product specification, installation and operation, is designed to sit alongside the NCC documentation as an alternative deemed-to-satisfy solution, and to provide industry practitioners with an objective, detailed toolkit for achieving best practice.
It is worth noting that the 25-page SA TS 5367:2021 relates only to Hybrid PL Exit Signage, i.e. PL signs fitted with their own adjacent LED luminaires to keep panels 'charged'. It is hoped that a similar TS will be created in the near future for Passive PL Exit Signage, which refers to PL signs that are charged solely by surrounding light without the need for supporting luminaires.
PL Exit Signage has seen increased use around the world over the past two decades, due to the low maintenance and safety of 'glow in the dark' materials, which remain visible in emergency situations even if electrical power has been lost.
SA TS 5367:2021 was produced by Standards Australia's committee LG–011, which comprises voluntary members from a diverse range of industry sectors and peak bodies. The following professional members and allied entities have endorsed SA TS 5367:2021: Australian Fire and Emergency Services Authorities Council, Australian Building Codes Board, Australian Institute of Building Surveyors, Electrical Regulatory Authorities Council, Fire Protection Association Australia, Photoluminescent Lighting Council, University of NSW.