SolarEdge is launching extended features in its Installation Designer tool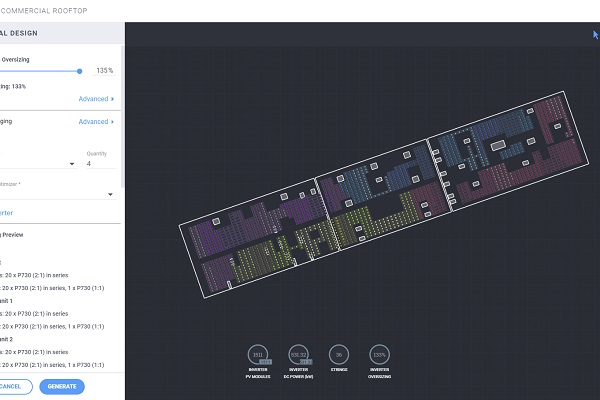 SolarEdge, provider of smart energy technology, is launching an extended feature for its Designer tool that specifically supports commercial PV systems.
The tool is now stronger than ever with a variety of new features for its free, web-based solar design, making commercial solar design faster and easier for larger systems.
To help maximise self-consumption in commercial projects, users can select the most suitable consumption profile out of a list of different load profiles including factories, retail stores and office buildings.
Additionally, modelling has also been made easier with a variety of new features including multi-selection, copy-pasting and an improved edge alignment.
On the electrical side of commercial solar systems, the designer now gives users an auto-string layout that quickly and automatically follows SolarEdge's flexible design rules at the click of a button. They can also duplicate wired blocks of modules by stringing them together and using the duplication feature.
The Designer tool also offers highly accurate energy simulations and reports by providing insight into the expected energy production of the system that was planned and designed. Included in the simulation are system losses which feature soiling and snow, thermal loss, light induced degradation (LID), incidence angle modifier and system unavailability.
ADVERTISEMENT

ADVERTISEMENT