Siemon's 24-Port MAX Zone Unit Enclosure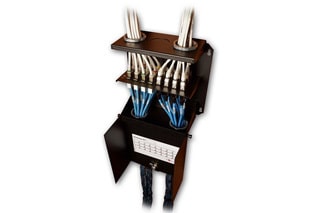 Siemon has announced a new 24-Port MAX Zone Unit Enclosure designed to support cost-effective zone cabling in a variety of enterprise workspaces by enabling shorter, easy-to-manage connections to work area or equipment outlets.
The 24-Port MAX Zone Unit Enclosure accepts up to 24 ports using Siemon copper or fibre MAX outlets, Z-MAX Category 6A outlets or TERA Category 7A outlets to support a wide range of horizontal copper and fibre applications. It features foam gasketing to minimise vibration and prevent dust ingress and includes easy-to-remove knockouts to facilitate routing cables in and out of the enclosure. Designed to meet UL's plenum rating requirements, the 24-Port MAX Zone Unit enclosure can be easily mounted under a raised floor, in the ceiling, or on the wall. The enclosure's cover is fully removable for improved access to connections, while integrated labelling facilitates port identification.
"The use of zone cabling that provides an intermediate connection point between the telecommunications room and the work area outlet has been proven to provide an overall lower total cost of ownership in today's enterprise environments, significantly reducing disruption and installation time when performing moves, adds and changes," says product manager for Siemon Brian McCaffrey. "Our new 24-port enclosure not only supports zone cabling connections to work area outlets, but it is also provides shorter, easy-to-manage connections for a wide range of low-voltage intelligent building devices that are converging onto a single unified physical infrastructure."
Part of Siemon's line of ConvergeIT Cabling Solutions for Intelligent Buildings, the 24-Port MAX Zone Unit Enclosure is ideal for use with Siemon plenum-rated cables, cords and connecting hardware to provide connections in the plenum space for voice, data, wireless access points, LED lighting, security, building automation systems, digital signage and other low-voltage devices that require network connectivity.