SENEC solar battery wins 2020 New Product Innovation award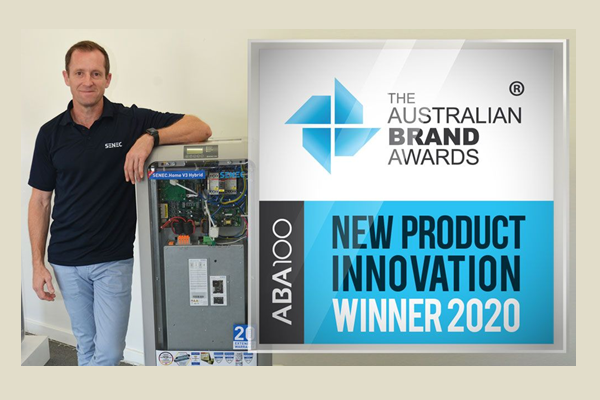 SENEC has become the first Australian hybrid solar battery to win an award as the SENEC.Home V3 Hybrid solar battery storage system claimed the New Product Innovation award at the Australian Brand Awards 2020.
The award recognised innovative consumer products that offer a point of difference from their competitors.
With more than 40,000 SENEC battery systems installed worldwide, SENEC has been repeatedly honoured as a top PV brand for power storage and recently received a prestigious 2020 German Excellence Award.
While SENEC is also leading the way in peer-to-peer trading, EV recharging and cloud technology. Plus, for all of the installed batteries worldwide, they have zero critical failures making them also one of the safest.
SENEC Australia general manager Patrick Duignan says one of the innovative features of the SENEC.Home V3 Hybrid is the combination of a PV and battery inverter in one single, easy-to-install system.
"The development of this new hybrid inverter is testament to the continuous improvement process leading to the latest transformerless inverter design that delivers high efficiency," he says.
"The DC-power from the PV panels is converted to DC-power directly by using a highly-efficient bidirectional DC/DC converter. By using a transformerless inverter to convert the energy from PV or battery to AC-power to compensate the house load, we have significantly increased efficiency thereby eliminating typical transformer losses such as copper and eddy current.
"It is these innovations that no doubt contributed to SENEC winning the ABA New Product Innovation Award."
The SENEC.Home V3 Hybrid solar battery gives home owners extensive benefits including 90% solar power self-sufficiency, even in blackouts. The combined PV inverter and battery inverter of this model delivers savings of approximately $3,000 per installation due to its simplified installation and design aggregation.
The V3 comes with a ten-year manufacturer's warranty and an optional extended 20-year warranty. This is expected to be a major impetus for millions of homeowners with rooftop solar to take the next logical step and add a battery.