Screwing up solar installations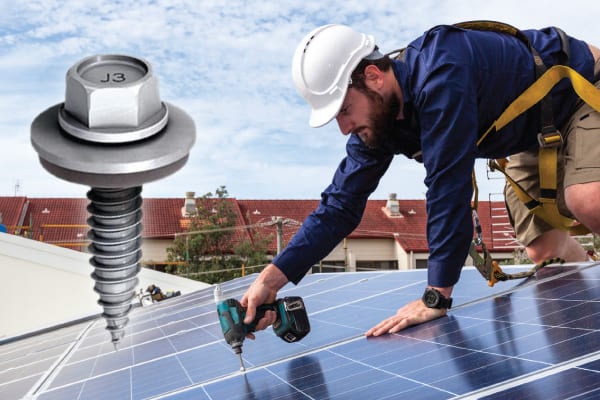 An English manufacturer has released a screw designed to make solar panel installations 30% faster and 30% stronger. But how is this achieved with just a screw? Joe Young reports.
Attaching solar panels to metal roofs can be a difficult task. Not only because you are precariously perched on a slopped surface well above ground doing manual labour, but if not done correctly, leaks, rust and maintenance problems can result.
More and more technology is being integrated into the humble screw to combat these issues.
The EJOT EJOFAST screw has quickly become the fastest selling screw in its manufacturer's range as installers are finding it makes PV installations on thin metal profiles faster, stronger and cleaner while reducing maintenance issues.
As you might guess there are some key differences to a regular screw.
A standard self-tapping screw cuts through the material it is securing into – whether it be metal or wood. EJOT screws, however, pierce the metal and pushes it aside rather than cutting through it. This gives the screw more material to engage with. It is then sealed by a stainless steel-backed EPDM sealing washer atop the screw. The manufacturer says the result is a hold around 30% stronger than a regular stitcher.
And because it isn't cutting away at the material it also means the roof isn't left with cracks or fine metal shavings. This may not seem like a big deal but over time fine shavings can cause permanent rust damage.
The other major difference is a standard screw can skid before it engages the material. The tip of EJOT EJOFAST screw has a feature called 'point geometry', which promotes instant thread pickup, which means it pierces the metal immediately.
So there you have it; faster, stronger and cleaner solar panel installations just from a screw.
For installers who regularly do PV installations it may be worth getting a screw designed for exactly that. The main application for the product is fixing brackets, clips or pre-punched clamps to metal sheets or side-lap stitching roofing and cladding sheets on metal profiles 0.4mm-1.25mm thick.
But for installers who choose to use the screw there is some good and bad news.
The bad news is the screw needs a specific screwdriver to be installed, the EJOT power screwdriver. The good news is this screwdriver can be set to automatically disengage the clutch when the depth sensing nose piece makes contact with the surface of the material being fixed.
The EJOT range of screws and screwdrivers is distributed in Australia by MAK Fastener, which specialises in roof-top installations.
MAK Fastener general manager David Mc Donald says EJOT screws works well in conjunction with the range of S-5! Products, such as the S-5! TrapBracket, TopFix CorruBracket-AU and TopFix CorruBracket-AU Mini.
In fact, there are products in the 5-5! range that can even enable installations without piercing the metal roof. This would be particularly attractive for customers who want to protect the warranty of their roof.
The S-5! clamps attach to the seam of a metal roof by inserting and tightening screws onto the seam, but only to a point where it will dimple the material but not pierce it.
The clamps can attach to almost any standing seam, exposed-fastened and corrugated metal roof profile.
While there is extensive coverage of technology developments in PV systems, there is a bit of activity in the area of installation of such systems as well.
With swarf-free, geometry tip features it makes you wonder, whatever happened to the humble screw?