Recessed luminaire barriers here to stay
Feeling down on downlight installation? Not sure what you are allowed or not allowed to do? Fret no more, the way is clear!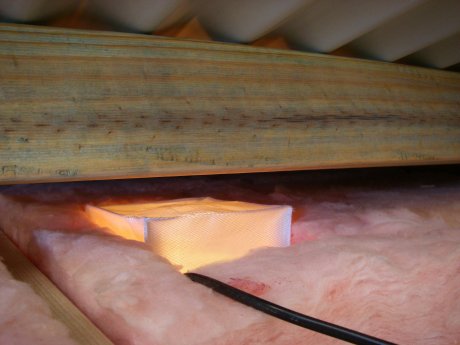 Just what do you need to know about downlight installation in Australia? Over the past two years, during my travels, I have been trying to get the message out there about what is safe and what is not when installing downlights. But even after all this time I'm not so sure that the industry knows.
But that's all about to change.
At long last there will be a change to the Wiring Rules and insulation installation Standards to cover all aspects of this issue. Further, there is also a new Standard for recessed luminaire barriers, AS/NZS 5110, which should alleviate concerns for the wholesaler, builder and electrician regarding their use.
Essentially the Wiring Rules, and lighting and insulation installation standards committees have worked together to sort fact from fiction and provide a comprehensive answer to the common problems regarding their installation.
For the sake of this discussion, let's use the word 'downlight' for recessed luminaires as it is the accepted terminology in the trade.
Much testing has been done working out on the working temperatures of lamps and downlights and the subsequent temperatures projected into and onto combustible surfaces from such.
Therefore, a risk assessment of the ceiling space is a must before the installation of downlights (by the electrician) or insulation (by the insulation installer). After that, if you follow the Rules then avoiding any pitfalls is as easy as pie!
What are the changes?
The changes to the Standards are not so much an actual change but are instead a more detailed set of clauses providing more explanation of the original intent of the now famous Clause 4.5.2.3.
Downlights and their auxiliary equipment are to be installed to prevent the excessive temperature rise of such and prevent the risk of igniting combustible materials. There are three compliance methods that will enable this:
Fitting a downlight designed and certified by the manufacturer as being suitable for being in contact with combustible materials and enclosed or covered by thermal insulation material. In my experience it is very difficult to source such a downlight, but I am sure that there are manufacturers somewhere offering them.
Fitting a downlight in combination with a barrier tested and classified in compliance with AS/NZS 5110 Recessed Luminaire Barriers. The recessed luminaire barrier is to be marked with the specific brand and type of downlight for which it is suitable, or if it's appropriate for a number of downlights, the brands and types of such. At this stage, these barriers cannot be fitted to just any downlight.
Fitting a downlight with separation from thermal insulating materials, combustible building elements and loose combustible materials based on the minimum clearance specified by the manufacturer of the downlight (which may require a barrier or guard constructed, on-site, of fire resistant materials, for example fibro-cement sheeting or steel strip to form a fence around the downlight), or the default clearances as specified in Figure 4.7 of the Wiring Rules.
Any of these three options can be used based on the initial risk assessment of the ceiling space.
After installation in an accessible roof space, a permanent and legible warning sign is then to be installed adjacent to the manhole or access point so that is visible to a person entering that space.
The sign is to warn the next person entering that area that downlights have been installed in accordance with the Wiring Rules, are not at risk of fire and must not be covered.
The reasons behind the changes
All lamps require the heat they generate to be dissipated in order to prevent over-temperature damage to the downlight or to adjacent materials. Cooling air circulation through or around the equipment is a requirement for the typical range of downlights in order to maintain adjacent materials at temperatures of no more than 90ºC.
Of concern especially are the latest CFL and LED downlights which may be self-ballasted, meaning that the electronics are within the lamp itself. In these situations airflow is a necessity to keep the electronics at a temperature under the maximum level for the electronic components. If these get above that limit, which is usually around 80ºC, the light output will be diminished and eventually the lamp will fail altogether.
To this end, most reputable downlight manufacturers will provide instructions that will restrict installation based on necessary clearances, including warnings such as 'Do not cover with insulation'.
These instructions and subsequent clearances come from specific testing, so as to prevent contact with materials that may impede airflow or which may be affected by the high temperature. Note that unmarked downlights shall be treated as 'Do Not Cover' models.
Under National Construction Code requirements, bulk thermal insulation is prevalent in modern buildings within roofs, ceilings, walls and floors. It may also be retrofitted, added or altered, in which case precautions will need to be applied by the insulation installer where downlights are present, or the downlight installer where insulation is present.
AS3999 Insulation Installation Rules includes instructions for insulation installers in relation to clearances from downlights and other types of electrical equipment that may be adversely affected by lack of cooling air circulation. Incidentally, they mirror the clauses in the Wiring Rules in relation to downlight installation.
Bulk thermal insulation covering the rear of a downlight can readily impair cooling air circulation so the space above the downlight shall remain clear. Unless the auxiliary equipment instructions permit otherwise it shall be installed above any insulation.
Combustible materials need to be prevented from contacting hot surfaces of the downlights or lamps which may be exposed in such fittings as gimbles. Temperatures up to 360ºC at the rear of a dichroic lamp have been measured, which is bloody hot. So you can see why this includes structural timber, which can be affected by pyrolysis (prolonged exposure to temperatures above 90ºC), which over a long exposure can result in browning and eventually blackening (carbonisation) and increased susceptibility to ignition. I am sure you would have seen some examples of this over the years; you just didn't know it had a name.
Where extraneous material, such as leaves and vermin debris is present in proximity to the downlight, the precautions should comprise the use of a suitably designed and certified downlight or a barrier. This includes combustible materials that are stored in a roof space.
Where clearances are to be applied and bulk thermal insulation is not fixed in position, a barrier to AS/NZS 5110, a guard complying with AS 3999 or a barrier or guard constructed, on-site, of fire resistant materials shall be provided and secured in position to achieve the clearances. In fact in the insulation industry, a formed or cut hole in a batt can be deemed a barrier if the batt is fixed in position.
A further look at barriers
Confusion may still be in your mind as to the barrier situation. You may construct a barrier on-site from suitable materials to protect the required clearances for the downlight or you may purchase a downlight barrier to AS/NZS 5110.
This is the tricky part, you will now find that most reputable manufacturers supply a downlight product with an integral cover that does not expose the rear of the lamp to the elements and as such only requires clearances and maybe a barrier constructed, on-site, to protect the necessary clearances.
If you choose to purchase a barrier to AS/NZS 5110, this is a valid option but you should be aware of the following! At present the standard is for barriers used in concert with a single downlight brand and type or a combination of downlight brands and types. All testing is carried out by the barrier manufacturer with that specific downlight brand and type. There is an amendment being worked on at present to allow a generic downlight barrier to suit any downlight.
The brand and type of downlight is to be marked on the downlight barrier itself, so it is important that you read the downlight barrier manufacturer's instructions. It is important to understand this because if you fit a downlight barrier to a downlight that has instructions as to Do Not Cover or already includes an integral cover, the subsequent overheating of the downlight due to restrictions of airflow is your responsibility and not the downlight manufacturer. In the same way if you do fit the correct brand and type of downlight into the downlight barrier and the downlight overheats and causes damage, the downlight barrier manufacturer may bear the responsibility.
Summary
It's as easy as this, look to purchase a downlight which includes an integral cover from a reputable manufacturer, carry out that necessary risk assessment in the ceiling space, follow the manufacturer's instructions as to necessary clearances, possibly construct a barrier on-site from fire-resistant materials to protect the necessary clearances, or purchase a barrier to AS/NZS 5110 for your specific downlight and there you have it, Bob's your Uncle!
No more need to feel down about downlight installation.