REC Solar helps bushfire-effected communities with free solar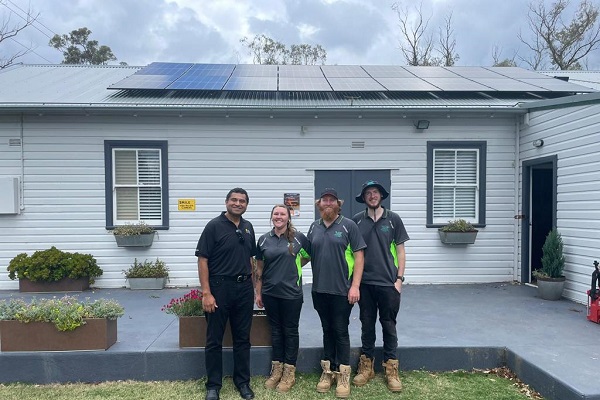 REC Solar has completed its first REConstruct program. The program saw 15 Australian community organisations affected by the 2019/20 Black Summer Bushfires receive premium solar systems with REC Alpha Series solar panels, fully installed at no cost.
The program was developed by REC Solar and multiple program partners with installations taking place across some of the most devastated regions including Kangaroo Island, East Gippsland and Mallacoota between August and December 2021. The Black Summer bushfires impacted 57% of Australians, burned more than 12.6 million hectares of land and emitted 434 million tonnes of CO2.
Fifteen organisations including primary schools, sporting clubs and community halls received access to approximately 50 6.5kw solar power systems fully installed, complete with state-of-the-art REC Alpha Series panels, inverters and racking.
The flagship installation for the REConstruct program, Clifton Creek Primary School in East Gippsland was completely destroyed by the Black Summer Bushfires and it has been a long road to recovery. School principal Susan Paul says the community is grateful for the generosity of REC Solar and its partners, for the contribution to their school:
"The bushfires were a traumatic time for all of the families and the local communities. The night that I got the phone call to say that the school was gone was a horrible moment in my life. It looked like that was the end of our little school," she says.
"We've been really fortunate that the REConstruct program has donated an amazing solar panel system to our school. We will hopefully work towards zero emissions, which is the goal not just of our school but also of our community."
REC Solar country director, Australia and New Zealand, Paul Scerri says the company is delighted to see the positive impact the REConstruct program is having on these bushfire affected communities: "The Australian bushfires were a harsh reminder of the impact climate change is having on our environment today.
"Renewable, clean energy is integral to the bushfire recovery strategy so that Australians can work towards reducing greenhouse gases and the ongoing likelihood of more long, devastating bushfire seasons.
"By supplying our award-winning high-power solar panels, REC Solar is proud to be doing our part for bushfire affected areas and continuing to empower communities through renewable energy. It's great to see REC's strong commitment to social responsibility come to life in Australia through such an important initiative."
ADVERTISEMENT

ADVERTISEMENT