Reaching the surface of computing
Surface computing is changing the way people interact with technology. Microsoft Surface provides effortless interaction with all forms of digital content through natural gestures, touch and physical objects.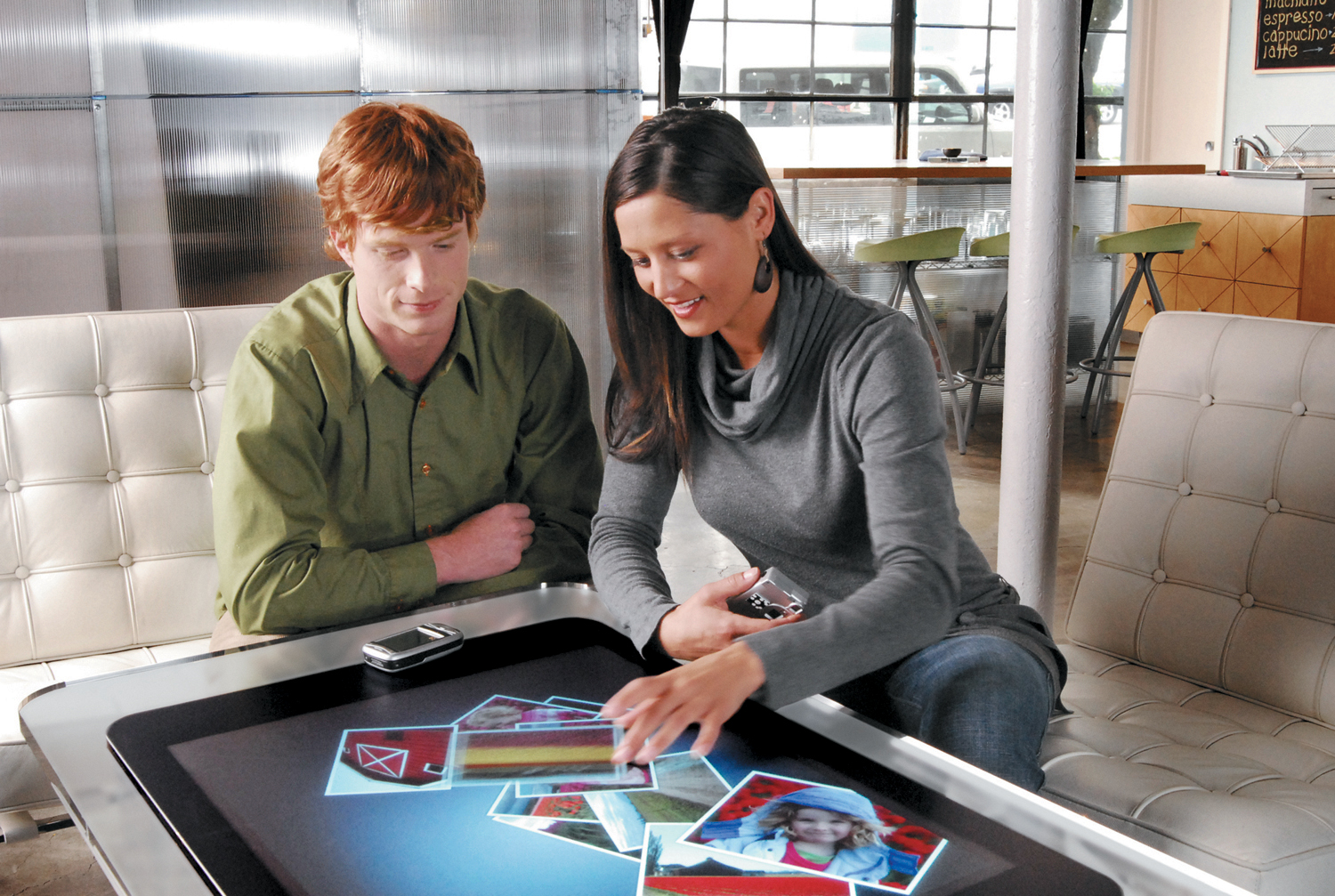 Despite the marvellous advances in technology over the past 20 years, there are still barriers between people and technology.
Creators of science fiction have long dreamed of effortless computerised systems allowing people to interact with them on their own or collaboratively with others – as happens in the real world.
Early in 2003, the new consumer products group of Microsoft presented an idea to Bill Gates, the then Microsoft chairman, during a group review. Gates instantly liked the idea and encouraged the team to continue to develop their thinking.
The team expanded, and, after a month of discussion and brainstorming, the prototype of what was to become Microsoft Surface was born.
This early model, the T1, was based on an IKEA table with a hole cut in the top and a sheet of architect vellum used as a diffuser. A variety of early applications were also built, including pinball, a photo browser and a video puzzle.
But, as more applications were developed, the team saw the value of the surface computer extending beyond gaming. They began to favour applications that took advantage of the unique ability of Surface to recognise physical objects placed on the table.
Over the next year, the team grew substantially and Surface prototypes, functionality and applications were continually refined.
More than 85 early prototypes were built for use by software developers, hardware developers and user researchers.
By late 2004, the software development platform of Surface was well established and attention turned to its form.
Several experimental designs were built, including a 'tub' model, which was encased in a rounded plastic shell, a desk-height model with a square top and cloth-covered sides, and a bar-height model that could be used while standing.
Surface is being adopted in high-end hotels and was used during the 2008 US presidential conventions for information kiosks.
Surface computing breaks down the barriers between people and technology. Microsoft Surface turns an ordinary tabletop into a vibrant, dynamic surface that provides interaction with all forms of digital content through natural gestures, touch and physical objects.
Microsoft specialised devices and applications group corporate vice-president Tom Gibbons says surface computing is a completely intuitive and liberating way to interact with digital content.
"It blurs the lines between the physical and virtual worlds.
"By using your hands or placing everyday objects on the surface – such as an item you're going to purchase at a retail store, or a paint brush – you can interact, share and collaborate like you've never done before.
"Microsoft is the first major technology company to bring surface computing to market in a commercially ready product.
"Although there are some companies working on similar technology projects, nobody is doing exactly what we are with Surface."
Tom says surface computing is a powerful movement for the industry.
"Many features available in mobile phones, PCs and other electronic devices like digital cameras aren't used because the technology is intimidating.
"Surface computing means people can interact with all kinds of digital content in a more intuitive, engaging and efficient manner.
"It's about technology adapting to the user, rather than the user adapting to the technology.
"The cool factor is the way you interact with digital content by using your hands to get what you need. Surface provides effortless interaction with digital content through natural gestures, touch and physical objects."
Surface uses cameras to sense objects, hand gestures and touch. This user input is processed and the result is displayed on the surface using rear projection.
The company says its four key attributes are:
• Direct interaction. Users can actually 'grab' digital information with their hands and interact with content through touch and gesture, without using a mouse or keyboard.
• Multi-touch contact. Surface computing recognises many points of contact simultaneously, not just from one finger as with a typical touch screen, but dozens of items at once.
• Multi-user experience. The horizontal form makes it easy for several people to gather around Surface, allowing collaborative computing in person.
• Object recognition. Users can place physical objects on the surface to trigger different digital responses; in the future this will include the ability to transfer digital content.
Sheraton Hotels and Resorts has announced that Surface units will be placed in the lobbies of selected hotels in Boston, Chicago, New York, San Francisco and Seattle. It will be the first hotel to offer Surface facilities, giving guests an entirely new way of exploring local tourist highlights.
With each unit, Sheraton is offering a customised version of the developed suite of applications to provide entertainment and information on local attractions.
Surface has the ability to recognise physical objects that have identification tags similar to bar codes.
So when a customer sets a wine glass on the surface of a table, a restaurant could provide information on the wine they are ordering, pictures of the vineyard it came from and suggested dishes tailored to that evening's menu.
The experience could become completely immersive, letting users access information on the wine-growing region and even look at recommended hotels and plan a trip without leaving the table.
"Right now we're focusing on launching this surface computer into public spaces," Tom says.
"As our world continues to be permeated by digital content – from music and photos to games – surface computers will put users back in control by making it easy and natural to interact with the digital world.
"Over time, we envision a wide range of surfaces, and we believe that this will become pervasive inside and outside the home."