RAM 1500 REV to go on sale in Australia as brand's first electric ute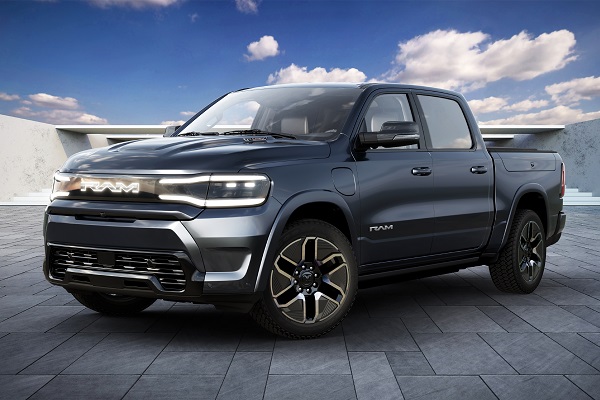 RAM Trucks, the American automaker owned by Stellantis, has confirmed that it will be bringing its first all-electric vehicle, the RAM 1500 REV, to Australia. Set to rival the upcoming Ford F-150 Lightning (which is still yet to be lined up for an Australian arrival), RAM's electric pickup truck boasts impressive performance figures and a host of innovative features that could make it a game-changer for those looking for a ute with performance, capacity and an environmentally-friendly slant.
RAM has not yet confirmed a launch date for the 1500 REV in Australia, but the company's global head has confirmed that it's on its way. Built on Stellantis' new STLA platform, which is specifically designed for EVs and body-on-frame vehicles, the 1500 REV will come in two versions, with the standard 168kWh battery pack offering a claimed targeted range of around 563km and the larger 229kWh model providing a range of up to 805km.
An even longer-legged RAM 1500 REV XR has also been teased, which RAM describes as offering "class-shattering range". With the 229kWh battery pack already offering Hilux levels of long-distance endurance, the XR model could conceivably have a range that's deep into the four-digit territory.
The numbers for the RAM 1500 REV are certainly impressive. The electric powertrain includes a dual-motor all-wheel-drive system producing up to 488kW of power and 840Nm of torque, which is enough to propel the pickup from 0-97km/h in as little as rather sporty 4.4 seconds. The air suspension, adaptive damping, locking rear differential and multi-link rear suspension should also ensure that the 1500 REV has excellent roadholding and off-road capabilities, as well as the ability to contain its prodigious power.
The 1500 REV's 800V architecture also means that with a 350kW fast charger, the vehicle can feed 162km of range back into its battery in just ten minutes. Finding such a charger in Australia may be difficult, however – at this point in time, 350kW chargers are far from abundant in this country. That said, the 1500 REV is capable of becoming a charger itself. Bi-directional charging allows the REV to transfer energy not only to other vehicles but also to homes and the grid, essentially turning the pickup into a mobile power bank with a 7kW capability.
The 1500 REV's electric powertrain also means that the vehicle can offer some unique features. The pickup has a large front trunk, where the engine would typically sit, providing an additional 424L of secure storage. Towing capacity is an impressive 6,350kg, with a maximum payload of 2,700kg for the pickup itself.
RAM has also focused on the pickup's off-road capabilities. The 1500 REV features air suspension, adaptive damping, a locking rear differential and multi-link rear suspension, all of which should make it an off-road beast.
RAM has a lot of competition in the electric pickup truck market, with the Ford F-150 Lightning and (yet-to-enter-production) Tesla Cybertruck being two of the most talked-about models. If RAM can get the pricing right the 1500 REV could be a real contender in the Australian market, however with combustion-powered RAM products already wearing six-figure price tags in Australia, don't expect it to be an affordable one.
ADVERTISEMENT

ADVERTISEMENT