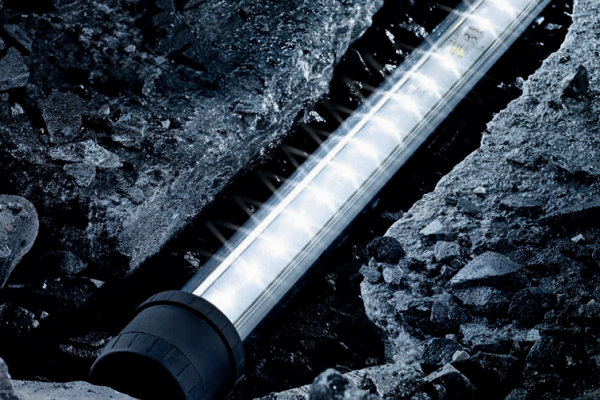 With Australia following suit on European lighting directives, the industrial sector needs to look elsewhere for its lighting solutions. Sean Carroll finds out how the R. Stahl range addresses the changes.
The fluorescent tube has been around for decades and it's a staple lighting solution for commercial, residential and industrial installations. Not only does it look good, it's a cost-effective and efficient light source.
Its time in the sun (or out of it) is coming to an end with Australia following a range of European directives including the introduction of 2019/2020/EU 'Ecodesign requirements for light sources' which will define higher standards for the efficiency of lamps.
These standards will come into effect in Europe on 1 September 2023, meaning the T8 fluorescent tube will be a thing of the past.
There's also a second directive: 2011/65/EU 'Restriction of Hazardous Substances' (RoHS) which regulates the use of dangerous substances such as mercury found in the same fluorescent tubes.
The alternatives, LED technology does not contain mercury and is far superior in terms of efficiency so there's all the reason to switch over today. The R. STAHL range of LED solutions is ideal for almost any industrial project including general lighting, floodlights, compact lights, hand lamps or emergency lighting systems.
Control Logic product manager, Martin Daines, says the R. STAHL solutions are an ideal alternative to fluorescent lighting and can be installed today: "Hazardous environmental areas still have the old fluorescent technology due to stocking common spares and the cost to replace the entire light fitting for newer technology."
While the new legislation shouldn't impact the commercial and residential markets as much, the industrial sector with hazardous environments will have a lot of work to do given the abundance of fluorescent fittings still in use.
"However, R. STAHL LED light fittings come in the same footprint to make the change less labour intensive," Martin says.
"If a fluorescent R. STAHL light fitting already exists, the internal assembly can be changed over without much cost that upgrades existing installations to the newer LED technology in a matter of minutes."
Some settings can be potentially explosive and as a result, electricians have to install specialised light fittings, cable protection and switchboard enclosures to prevent an ignition source.
Certified IECex light fittings must be used where flammable gases, vapours, mist and dust may combine with oxygen and an ignition source to cause an explosion. These hazardous environments are commonly found manufacturing, processing, transporting and storing combustible substances. In industries such as oil and gas, chemicals, petrochemicals, pharmaceuticals, fertilisers, food and beverages, airports, biofuel, wastewater and recycling are considered high risk for explosions.
"LED lighting is ideal for use in extreme temperatures because it is characterised by a low heat build-up and can therefore still be used at temperatures from -60 °C to 70 °C," Martin says.
"It's lighter and boasts a high vibration resistance, making it extremely easy to install because there's no heavy metal transformer acting as a heater."
The R. STAHL range of LED linear and emergency luminaires comes with an electrical connection on both sides, five-core through wiring for installation in light strips and a new sealing system that is certified for both IP66 and IP67 protection. Coupled with an impact strength rating of IK1 10 while remaining lightweight between 5kg and 9kg, the LED lights are extremely robust.
An electronic ballast fitted to the reflector plate of the luminaires makes the R. STAHL Ex linear luminaires easier to maintain and retrofit.
"We are all aware of the efficiency benefits and the long life of LED technology qualities. With this comes fewer maintenance intervals, which means fewer spares required on shelves with glass tubes and plastic starters," Martin explains.
"In addition, with full light output on start-up, the luminous intensity can be controlled depending on the ambient brightness. This isn't about changing lights because of the new directive, it's a change for the better with these LED solutions well-suited for harsh industrial environments."
The R. STAHL LED range includes tubular light fitting, LED battens and LED floodlights among others. The full range of lighting solutions can be found here.
—
To find out more about the R. STAHL range of LED luminaires, visit this link, contact them over sales@controllogic.com.au or call them at 1800 557 705.
ADVERTISEMENT

ADVERTISEMENT