Pro-Vis AR App assists in improving health, safety and compliance with new AR interactive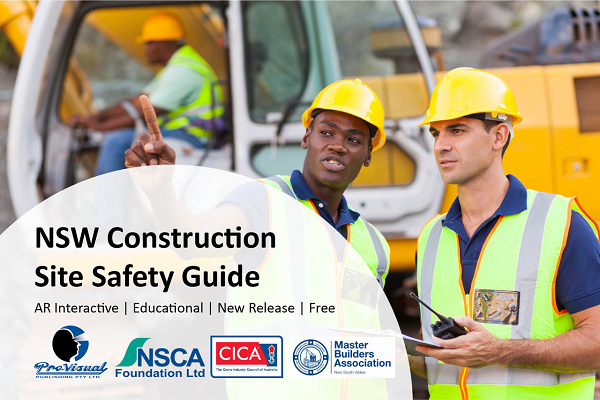 The newly released Pro-Visual AR Interactive – NSW Construction Site Safety Guide 2022/23 produced in conjunction with Master Builders Association of NSW, The Crane Industry Council of Australia (CICA) and endorsed by the National Safety Council of Australia (NSCA) aids in recognising and controlling the key hazards with the latest WHS Regulatory Guidelines focused on proactive prevention of injury, ill-health and essential information in order to help create a workplace safety culture of Zero Harm.
Australian construction workers are six times more likely to die from suicide, with young workers/apprentices more than two times more likely to take their own lives than other young Australian men. With the increasing awareness of statistics and the importance of addressing workplace mental health and wellbeing, mental health is a primary focus viewed through the framework of risk management, protecting all workers from psychological workplace hazards.
Designed to be displayed in the workplace the free (AR) Interactive – NSW Construction Site Safety Guide 2022/23 is developed with interactive augmented reality (AR) capabilities for use with a smart device, by simply downloading the free Pro-Vis AR App via the App Store or Google Play. This leading-edge digitally interactive Guide is a targeted response to a changed landscape as workers often respond well to information relayed via visual means such as videos and 3D visualisations rather than technical written documents.
Together Pro-Visual Publishing and their partnering Industry Association have carefully selected additional subject matter that addresses WHS issues pertinent to this vital industry:
New Australian Standard 1576.7 (Int):2021 Scaffolding, Part 7 – Safe Use of Encapsulation on Scaffoldingprovides industry guidance on performance criteria for the flammability of scaffold encapsulation;
Minimising risks associated with powered mobile plant – workers being hit, crushed by, or falling from powered mobile plant continues to be a leading cause of death and serious injury;
Managing electrical risks – electrocution is the second leading cause of traumatic fatalities;
Control of exposure to silica dust – silica is the biggest risk to workers after asbestos.
Pro-Visual Publishing chief executive John Hutchings says: "Health and safety strategies and accident prevention measures need to be individualised and adapted to the type of worker most likely to be at risk and shaping a culture of safety for young workers and apprentices.
"Having complementary WHS management systems allows companies to anticipate, adapt and respond to the risks and opportunities created by a highly innovative industry like construction. This vital free workplace safety initiative would not be possible without the ongoing support from our corporate sponsors and industry associations."
ADVERTISEMENT

ADVERTISEMENT