New app helps businesses keep workers safe on site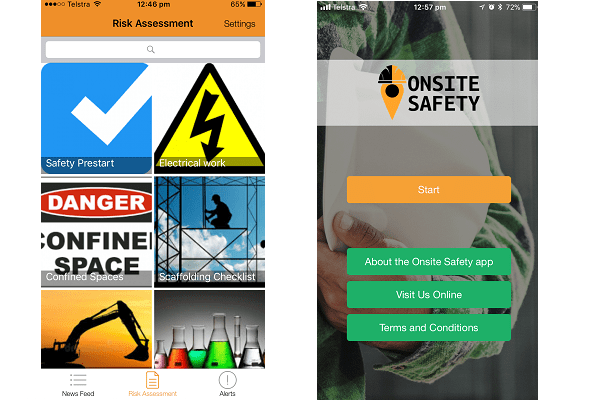 A new app has been released, called the Onsite Safety app, to help enable businesses across Australia manage the health and safety of their workforce.
According to SafeWork Australia, there are more than 107,000 workplace injuries or illnesses each year, which costs employers and the community over $60 billion. SafeWork Australia data also estimates that there were 178 workplace fatalities across Australia in 2016.
The Onsite Safety app is an Australian engineered mobile software tool developed by Chocolate Coded. It assists businesses to achieve their safety goals by giving them the ability to connect with employees and contractors out in the field through a smart phone or tablet to help ensure individuals assess the hazards of a task before starting work.
The new app comes with pre-prepared hazard assessment checklists for high risk activities, the ability to develop customised hazard assessment checklists, an incident reporting function, the ability to share live hazard and incident notifications with GPS tagging and a health and safety newsfeed from SafeWork regulators.
The pre-prepared hazard assessment checklists have been developed in consultation with SafeWork NSW and cover the six key high risk activities responsible for the majority of workplace incidents. These include working at heights, electrical work, plant use, vehicle use on constructions sites, confined spaces and working with chemicals.
"Managing the health and safety of employees and contractors when they are working out in the field can be extremely challenging for businesses. It is, nevertheless, an important part of the duty of care that all businesses have. With the increasing remote nature of work it is crucial that businesses use technological solution to ensure that their workers are not exposed to risks at work," says leading health and safety lawyer Michael Tooma.
"The new Onsite Safety app helps address this problem by harnessing mobile technology to facilitate vital communication about health and safety risks between businesses and those working out in the field. The Onsite Safety app is free, easy-to-use and a must for businesses across the country."
The information entered by workers using their smartphone or tablet is automatically logged in a portal, which allows businesses to track and manage vital safety records in real-time.
The Fast Makeover Company director Grant Nelson says that Onsite Safety has already proved to be an invaluable workplace tool.
"Since we started using the Onsite Safety App, my team now have a straight forward, easy way to manage their safety requirements daily and document any hazards or risks they come across onsite. It empowers my team to take responsibility for their own safety and the safety of each other, plus contractors and keeps them accountable to the company safety policy in a manageable and practical way. This gives me confidence as a business owner when my team is out on the job."
Onsite Safety is available for download on iOS and Android via the App Store and Google Play. For more information, or to register your business, visit www.onsitesafetyapp.com.au.