Networked exit signs and the opportunities they present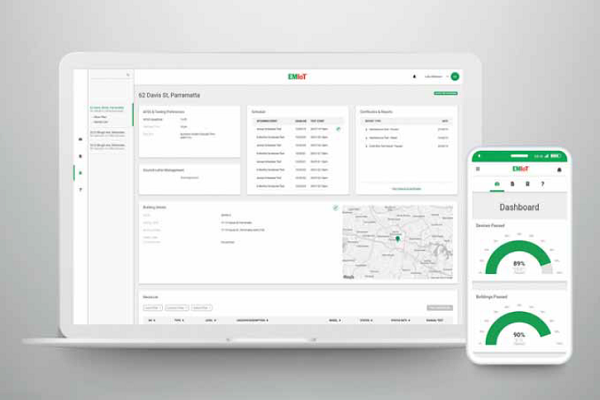 Networked emergency exit signs provide a wide-reaching platform for building management and remote control. Anna Hayes found out more.
Emergency lighting is part and parcel of every public building, providing a vital service for its occupants in times of crisis.
But what if your emergency lighting could do more than just direct you towards an exit? What if it could also give you an entrance into one of the country's fastest growing markets – the Internet of Things (IoT)?
Valued at $A7.9bn in 2018, the IoT market is projected to grow to a figure of $25bn by 2024, according to market analyst TechSci Research.
This was the background to WBS Technology's EMIoT, a wireless platform built on a network of connected emergency light units.
WBS started working on the project about three years ago. Already working in the emergency lighting market, the directors saw the smart building technology market as an opportunity and hit upon the idea of connecting emergency exit lights to create a more efficient system.
However, with no engineering or IT team to speak of, they approached the University of New South Wales (UNSW) for expertise in wireless communication.
Dr Wen Hu of UNSW's School of Computer Science and Engineering, working with associate professor Salil Kanhere, professor Sanjay Jha and a cluster of PhD  tudents, subsequently developed a meshed network that could cover 99.9% of a building, including out-of-the-way places like underground car parks.
Making it accessible via computer and smart phone, EMIoT provides a 'sensors as a service' platform for the building to, effectively, monitor itself and alert the facility's manager to any problems that may arise. The structure of the network also makes it possible for other IoT devices to connect, and be controlled and monitored remotely.
In December 2018, WBS had installed the system in approximately 10 apartment complexes – eight months on that number has risen to 42 and travelled beyond NSW.
WBS Technology marketing team leader Luke Gibbeson says that upcoming projects are in a variety of different locations, adding that the company has been in talks with contractors and various building companies across the country in recent months.
Key to the project was the collaboration with UNSW where WBS Technology's vision for EMIoT was realised. It was also a great way for UNSW to bring the innovation from its laboratories out into the real world.
UNSW's dean of engineering, professor Mark Hoff man says: "Our students don't just learn knowledge and skills, but how to work as teams and innovate to solve open-ended problems. Our partnership with WBS Technology is a great example of this."
For WBS, Luke says they are actively exploring various avenues of collaboration, not just with universities but with other companies operating in the IoT or building management system areas.
Since its initial launch, the team behind EMIoT has been working on enhancing the customer platform, researching what facility managers want to see and upgrading the software to reflect that.
As a product, EMIoT is constantly developing and WBS hopes to see other vendors and manufacturers bringing their products onto the network. This will go hand-in-hand with continuing attempts to innovate the emergency lighting area.
ADVERTISEMENT

ADVERTISEMENT