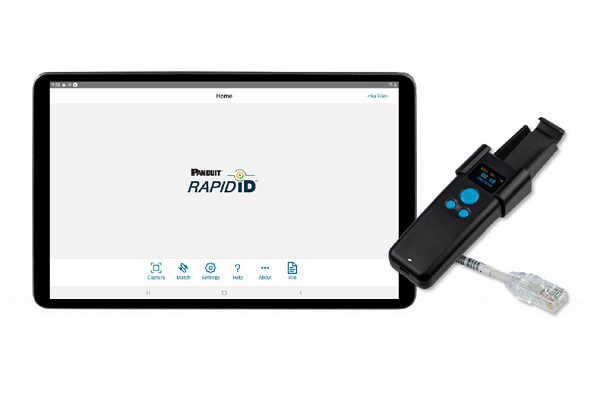 Cable documentation is a painstaking task for all electrical professionals and data centre managers. Sean Carroll finds out how a new solution from Panduit streamlines the process.
When it comes to cable documentation and labelling, it's not as if it's the hardest job for the electrical worker or data centre manager, but it might be the most time-consuming.
With the size of data centres growing each year, the number of cables in these buildings is growing as well. But regardless of how large the centres are growing, electricians were still using prehistoric methods of cable documentation.
The monotonous task takes forever to complete and is wide open to mistakes, adding to the amount of work needed at the end of the day. To make life easier, Panduit has released the RapidID Network Mapping Solution, a Bluetooth-enabled barcode scanner that automates the labour-intensive and error-prone process.
This is a world of difference to the usual pain of having to manually pick through cables, roll along the cable until you see a tag or marking and jot it down. While some templates make it easier to do, it's still frustrating and takes a chunk of man-hours out of the day.
The handheld device neatly cradles a cable and scans the barcode on it to automatically identify and log what it is. Users can then use the Panduit RapidID app on an iOS or Android device to collect all the data needed.
The solution doesn't require any special panels or cabling and is ideal for building a new telecom room, locating installed cabling or replacing a network switch. The three steps are as follows:
Install Panduit cables that feature unique barcode labels.
Download the mobile app from iOS or Android app stores to a tablet device.
Scan barcodes using the handheld scanner.
"With RapidID, the painstaking labelling process is already done," Panduit marketing operations manager, Australia and New Zealand Aleks Stefanovic says.
"Additionally, RapidID is a practical alternative to traditional manual approaches. The market trend is clearly directed towards ever-growing data centres and enterprise network infrastructures which also introduces major complexities. Any system that reduces labour time and increases accuracy is welcomed by technicians and electricians alike."
Another benefit to using the Panduit solution is that it creates uniformity in the cabling installation. Instead of mixing and matching cables until it works, you're only using the appropriate cabling that syncs up with the RapidID solution – everything you use is set.
Also, if you're trying to collate cables with several staff members, you can rest assured knowing that everyone's using the same system and documenting everything the same.
When using the RapidID solution, electrical professionals can expect to save up to 50% of their time in installation according to an internal time study conducted by Panduit in May 2021. Adding to the ease of installation, the RapidID product comes with pre-labelled copper and fibre patch cords so you can jump right into it.
But don't take the study's word for it, electricians can request a demo of the Panduit RapidID before they commit to buying so they can see the time savings first-hand.
Additionally, with greater network documentation through the RapidID solution, users can expect less downtime during an outage. By accurately documenting the physical infrastructure, users can ensure all their cabling is in-date and correct, bypassing the human error element
With cabling technology evolving, it's about time the cable documentation grew alongside it, the RapidID solution from Panduit is that evolution.
—
To find out more about the Panduit RapidID, visit this link or call them at 1800 PANDUIT.
ADVERTISEMENT

ADVERTISEMENT