EV charging, no strings attached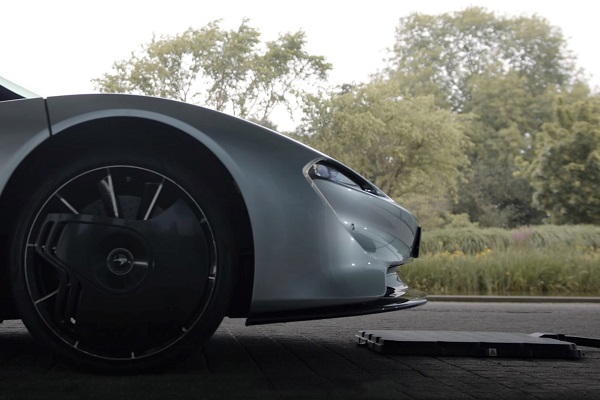 Lumen Freedom has developed an EV charger that charges motor vehicles wirelessly without the need for plug in cables. Sean Carroll finds out how it works and what the future holds.
Imagine you're driving down to the coast for the long weekend. We all know how petrol prices spike during the school holidays and that's after you find a pump at the busy stations.
Now, EVs can bypass this entire process but if you do ever find yourself on the road and low on charge, the latest innovation from Lumen Freedom, the Wireless Electric Vehicle Charging, or WEVC, can charge your car wirelessly as you drive.
Change lanes into the designated charging lane, indicate to your phone that you want to start charging your vehicle and then away you go, charge as you drive with speeds north of 100km/h.
Lumen Freedom is an Australian-based company that is part of the Lumen Group, a leading integrator of automotive systems. For over 30 years, the company has been a major supplier of genuine auto accessories while the Freedom side of its business focuses on wireless charging.
The WEVC is the culmination of work that has been ongoing since 2016 and it is currently being installed in the United Kingdom, the United States and Japan.
"It's a completely hands-free charging solution. You have a wall box, you have a ground pad which can either sit proud on the ground as you would on the garage at home or built under the road," Lumen Freedom general manager Rod Wilson explains.
"You simply park your car above it, you get signals when you're aligning and then when the car is correctly aligned, you can walk away, activate the charging and it'll charge wirelessly over an air gap of up to 320mm."
The best part about the innovation is that it enables static, semi-dynamic and dynamic charging while removing most, if not all, visual pollution there may be with EV chargers.
Semi-dynamic includes taxi ranks at airports, where a car might pull up, charge while waiting for a customer and then keep moving. Dynamic charging, like the example at the top of the article, is built into the freeway where drivers can charge while travelling at speeds above 100km/h, removing any range anxiety.
"You might have a 100km stretch of road with the WEVC charger built-in and you'd signal to your car how long it is between here and Sydney, for example, and you want to top up your battery 400km, so you go into the charging lane, charge and then keep on driving," Rod says.
But as Rod explains, the sweet spot for charging EVs with the WEVC is with 11KW chargers and what he refers to as "snack charging". Drivers can park their car over a pad, either under the asphalt at a red light, car park, etc. and there'll be no maintenance, no ugly visual pollution, no dirty cables. Just charge, no strings attached.
"Another benefit though with the WECV is that there won't be any charging stations on the streetscape. Overseas, they're telling us that they don't like plugging it in on the streetscape – they look ugly, they get damaged, dirty and it's hard for people with low mobility, or handicapped," Rod says.
"There will always be a place for DC fast charge plugin for big electric trucks and other needs like that."
With this solution, governments or private owners won't need to purchase lots of land to install the charger since it can sit underneath the asphalt. Cars also won't have to 'line up' for a charging plug and only be relegated to specific spots. And one of the more exciting parts about big batteries and EV chargers is their potential for two-way power capability.
In the 'Charging up a two-way street' article in the Winter 2020 edition of Electrical Connection, I wrote about a Macquarie University innovation that lets EV owners power their household through the connected EV. It's similar to the Mitsubishi Dendo Drive House.
"The fully charged vehicle is capable of feeding power in the other direction when parked and becoming a back-up system," Macquarie University post-doctoral research fellow Seyedfoad Taghizadeh says.
"Also, the Intelligent Charger (Macquarie University's two-way charger) can provide ancillary services such as harmonics reduction and reactive power support for the local grid."
The university researchers also stressed the fact that households are increasingly dependent on power, especially with the proliferation of smart home devices.
The WEVC also comes with this two-way capability even through its wireless connectivity.
And with all EV charging solutions, there are stop-gaps for range anxiety. As Rod tells me, people could park their car in the garage, switch power to the EV's battery but set a minimum limit for the car so that drivers aren't stuck with a flat battery in the morning.
The WEVC is currently being installed in the UK into a number of field trials involving semi-dynamic applications.
"We're also working in the United States with a number of OEM vehicle manufacturers," Rod adds.
"We are the only company in the world to supply a Wirelessly Charging System that is line fitted as standard specification (OEM) and that's to the McLaren Speed Tail Hyper-GT, vehicle."
He adds that while it's great these solutions are getting deployed across the globe, the country the WEVC is designed in is Australia, but interest is low. Rod tells me that the team has every interest in keeping the innovation onshore, but it's clear that the rest of the world is benefitting from this tech before Australia does.
On page [X] of this magazine, Peter Vandenheuvel writes about EV policy in Australia, why it looks like it does and whether we'll catch up with the rest of the world in this space.
"The EVs are coming, there's no chance that they won't come," Rod says.
"Trillions of dollars are being spent on them and if you look at the promises from countries and manufacturers; Volvo, for example, have said they will never make an internal combustion vehicle again."
When they do come, electricians are going to be needed to install EV chargers across the country and there will be millions of necessary units.
It's just a matter of time before Australia follows the rest of the world's lead and moves on to EVs in a meaningful way. When Australia does it'll be too late, there's a wireless charging solution right on its doorstep.
This article was originally written in August 2021.