Lucina found her spark, encourages others to do so too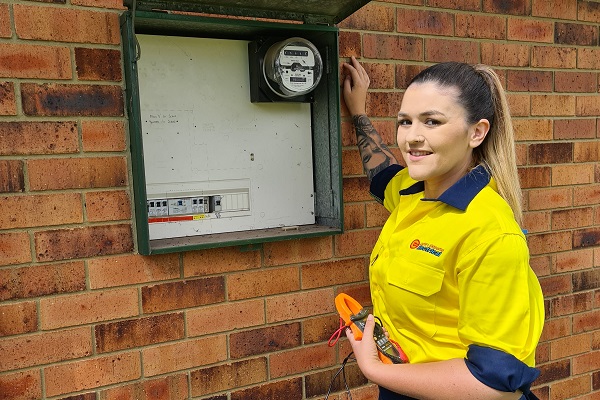 Ashtonfield local and TAFE NSW Newcastle student, Lucinda Spark is encouraging others to consider a rewarding career in electrotechnology as figures reveal a high demand for skilled trades people across NSW.
Lucina is studying a Certificate III Electrotechnology and has secured a job as an electrician with Carter and Osborne. She is part of a growing band of women making a mark in male-dominated trades.
With only 1% of tradies being female, Lucinda says being a woman in a male-dominated industry has had its challenges but she has a fierce drive to succeed and her teachers have offered her every support.
"I've always been interested in understanding how things work so I've really excelled in this course," she says.
Carter and Osbourne project manager Scott Day says that Lucinda is a true professional and her work is a positive reflection on the industry in general.
"We ensure our staff are trained by TAFE NSW because they provide first-class training and are the largest and most well-established training provider in the country."
TAFE NSW Electrotechnology teacher Derek Bailey says the Certificate III in Electrotechnology is a nationally accredited course which is fully subsidised under JobTrainer: "Now is the perfect time to pursue a career in Electrotechnology with the Australian industry forecast to employ over 140,700 people by 2025.
"Students in the course will learn hands-on practical skills including installing wiring systems, connecting electrical circuits and solving problems related to electrical equipment."
TAFE NSW adds that electricians are one of most sought after occupations across the trades and services sector, accounting for 48% of all new job ads in NSW.
"My advice to other females interested in pursuing a career in a male-dominated trade is to dive in and follow your passion. TAFE NSW has supportive teachers that are ready to help you launch your career," Lucina adds.