Isuzu's Traypack leading the pack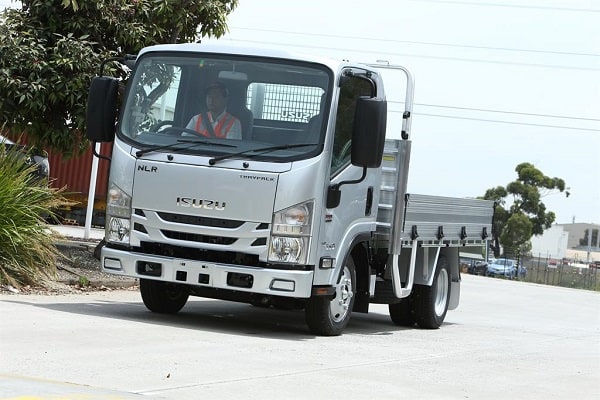 Isuzu's Ready to Work range provides tradies with a variety of powerful and flexible workhorses that respond to the changing needs of modern tradespeople.
The range includes the NLR 45-150 Traypack, which is a one-stop-shop for every tradie. The Traypack has the same tight turning circle and nimble handling as a utility but with a greater payload and truck-tough dependability.
The NLR Traypack's Isuzu 4JJ1-TCS turbocharged diesel engine produces 110kW at 2,800rpm and 375Nm at 1,600–2,800rpm, meaning it has the muscle to tackle tough hills and tricky building sites.
The Traypack comes in either a flexible short wheelbase model with a 3.15m-long heavy duty aluminium tray or a medium wheelbase with a 4.5m-long tray. It is also backed up by a GVM of 4,500kg.
Additionally, the Traypack has a class-leading array of safety features, including anti-lock braking (ABS), anti-skid regulator (ASR) traction control, hill assist (HSA) for the manual model and Isuzu Electronic Stability Control (IESC). This gives drivers assurance on the road by automatically adjusting the brakes if the wheels begin to slip in rough weather.
As with all 28 trucks in Isuzu's Ready to Work range, the Traypack features a factory fitted body covered by Isuzu warranty.
Transmission options include a five-speed manual or the latest Isuzu six-speed automated manual transmission (AMT) in the premium model, which features both fully clutchless and manual operation modes.
"The Traypack offers a comfortable, relaxed driving experience, plus there's the choice of a short wheelbase model that's compact enough to be parked in a standard carpark or driveway or the longer medium wheelbase model for hauling those larger loads," says Isuzu's chief engineer of product strategy Simon Humphries.
"It's a real game-changer for tradies who want the ease of driving and parking that comes with a utility but need the reliability and capacity of a truck. For businesses that work in residential or commercial areas, there's a truck in Isuzu's Ready to Work range for every application imaginable."