Installing KNX into a broadcast van
This mobile TV studio is able to run its equipment efficiently, and with the knowledge that if disaster strikes, it won't affect the broadcast. Callum Fitzpatrick reports.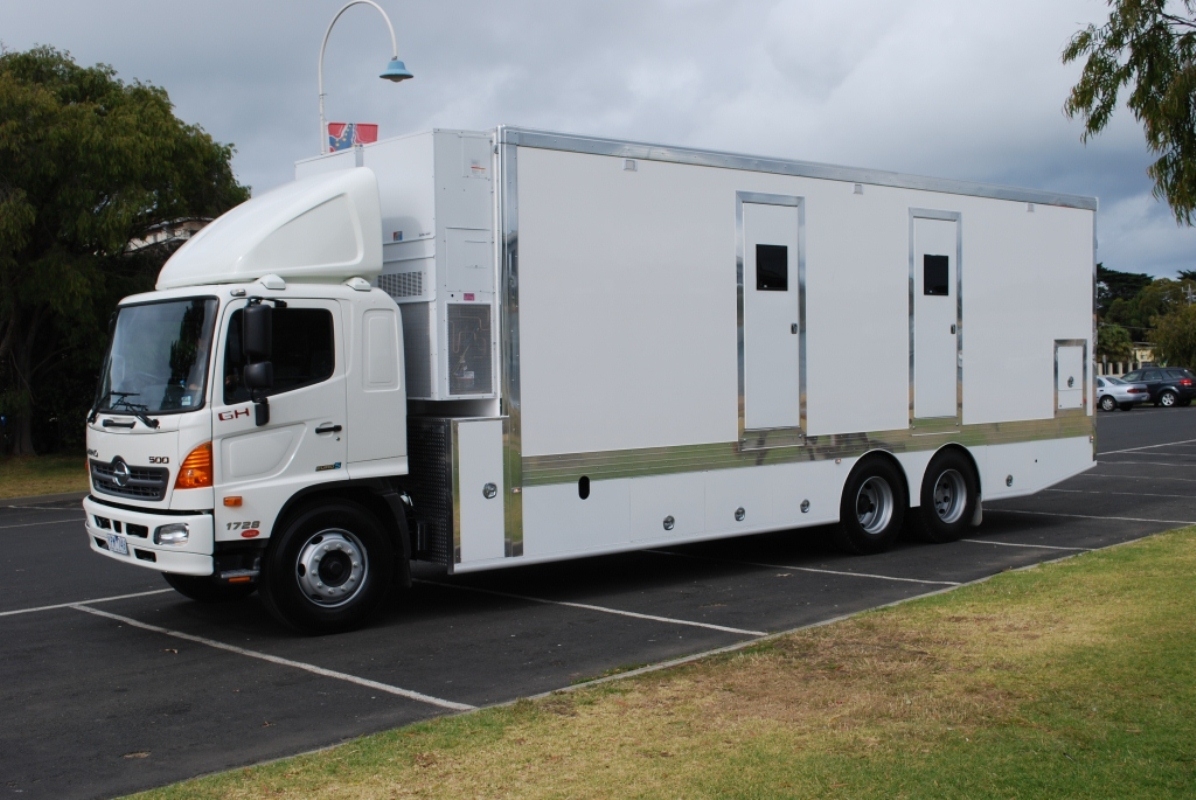 Carrying out an installation in a confined space always has its inherent challenges. So when Systems Intelligence was given the task of carrying out a fully-fledged electrical installation, along with KNX control and touch screen visualisation into the confines of a broadcast truck, the team knew it had its work cut out.
Based in metropolitan Brisbane, the truck functions as a remote broadcast television studio, receiving high quality video and sound signals to transmit horse racing events around Australia.
Originally the client, Grass Valley, was contracted by Sky Racing to build an outdoor broadcast truck, so it looked to Systems Intelligence to provide a modest lighting control solution. However, after it was noted that KNX could be integrated with other technologies, the project scope was expanded to include air conditioning, temperature control, load shedding and sequencing, phase control, surge protection, fire alarms and metering.
"The technologies we installed were not especially new to us – it was mainly things we install day-to-day, but this application was completely new and exciting," says Systems Intelligence director Garry Lowe.
Garry explains that Grass Valley's initial intention to install a lighting control system was primarily to increase the vehicle's safety.
"They were worried about having standard 240V switching installed in the truck because of the metal exterior," he says.
"They knew that with a sophisticated lighting control system they would be able to network a low voltage solution to make it safer, and have the functionality of dimming and customisable scenes."
When the vehicle pulls up to a racetrack to broadcast, 3-phase power is provided through two supply.
"When the truck is in motion it is powered by its own battery supply, but this only allows them to run some internal lighting. To power-up the broadcasting equipment, they have to connect two 3-phase supplies. Grid power is ordinarily available, but if they travel to a remote location for a country race, a generator supply can also be used," Garry says.
"If they get to a site to find that the supply is 3-phase reversed, our system recognises that and flicks it over to how it should be.
"This is very important, because if a 3-phase supply is wired the wrong way, you run the risk of blowing up a motor, among other things. We had to make sure the power quality coming into the truck is monitored.
"This monitoring is also important because the consumption of all their equipment is just under the threshold coming into the truck, so they have to be very careful about what they switch on and when they decide to use it."
Another major consideration was climate control – because there is a large amount of equipment operating in such a small proximity, there is danger of it overheating, spelling disaster in the middle of a broadcast.
"We needed to make sure that we didn't have computer racks overheating, which is always a concern in such a confined space," Garry says.
"We also included surge protection, which is monitored, as well as fire alarms with smoke and thermal detectors that are monitored. So if there's something not quite right, they'll hear about it."
For visualisation, the KNX system is linked with an industrial PC-based 15-inch touch screen which allows the whole system to be controlled when the vehicle was in broadcast mode.
"This is very much the industrial side of the system, but we've linked all the KNX equipment into it, so they can edit parameters and certain functions," Garry says.
He also adds that because the system is under the most strain when the crew is in the middle of a broadcast, Systems Intelligence had to make sure there was a contingency if disaster strikes.
"There had to be fail-safes on the system. If something goes wrong with one of the power modules, the fail-safe is that it still stays on.
"And if the touch screen decides to crash and display a blue-screen, they are still able to manually control everything."
Garry says that one of the biggest challenges for the team was working in such a tight space alongside other trades.
"While we were doing our bit, the AV guys were in there setting up all their equipment at the same time," he says.
"Their part of the truck was quite labour intensive and they needed to be in there all the time. At any one point there would be four or five of us working in the same truck.
"Also, because there was so much AV equipment in there, we were limited on where we could put all the KNX and lighting control.
"This meant that when it came to switchboard design, we had to think outside of the box. There was nothing 'off the shelf' that would have really done the job. We had to configure it in a certain way that would allow us to fit it into the space they gave us. The control system we used saved a lot of space. A normal industrial system would've taken up a much larger footprint."
Following the success of this project, Systems Intelligence has since taken the same system design and implemented it into routine commercial installations.
"In the past, a lot of systems within commercial buildings have been separate from each other – lighting control, load shedding and switching of circuit breakers were all disconnected," Garry says.
"We're trying to use industrial PC-based control and bring everything back onto the one platform. This project was definitely a stepping stone to get to that. Nearly everything we've done since this job has been based on this model."
Garry adds that the positive feedback the team received from Grass Valley has motivated it to carry out similar installations in the future.
"The feedback from Sky Racing has been great – they were over the moon with the installation. They are looking at creating some more vehicles this year," Garry says.
"We're also looking at taking this model to other vendors as well, such as high-end caravan companies and modular homes – anything in a vehicle. The possibilities are endless."
ADVERTISEMENT

ADVERTISEMENT